Sears for fears
July 3 2009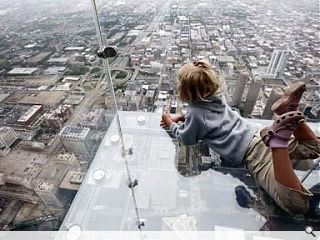 America's newest observation platform, all glass balconies protruding from the 103rd floor skydeck at Sears Tower, has opened to the public.
Dubbed "The Ledge" each balcony sports 1.5 inch thick glazing, allowing a reassuringly hefty five ton load to be carried outwith the building envelope drawing inspiration from the hundreds of forehead prints previously left behind by craning visitors each week.
Each transparent glass box treats occupants to a vertigo inducing panoramic of the windy city and between the legs excitement of a dynamic distant streetscape below, sure to be seared into the minds of all those brave enough to take that 4ft step into oblivion
Tower owners plan further enhancements to the seventies star in coming years from a confusing name switch this Summer to Willis Tower and a $350m dollar green makeover including wind turbines, roof gardens and solar panels.
Picture: AP
Back to July 2009