The one that got away
|
Send to friend
June 30 2009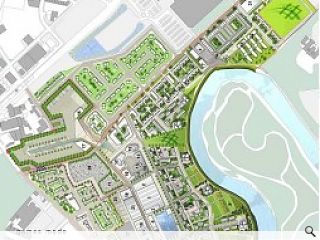 With RMJM standing proud on the winners podium for the Commonwealth Games masterplan it is interesting to look at those schemes which fell at the final hurdle, for as gm+ad's very own Alan Dunlop states, these schemes are: "too comprehensive and well done for us just to let fade away. "
Amongst these contenders were the PPC consortia, comprising a quintet of architectural big guns: Ian Simpson, gm+ad, Elder and Cannon, Reiach and Hall and Nord.
To coordinate such a diverse pool of talent the masterplan area was divided into individual complimentary sections with each practice given free reign over a period of some nine months to envision how the east end environs of the Games site might look in both Games and Legacy mode.
Key to these plans were Nord's approach to the rivers edge which saw land given over to parkland primarily save for definition around access points with four leaf clover profiled sentry blocks. This democratised access to the river for the majority of residents and opened up avenue long vistas to the Clyde.
Ian Simpson architects had fleshed out a series of urban blocks behind this to accommodate all residential and commercial requirements of the village alongside associated Games paraphernalia. Central to this would have been a dramatic cluster of hotel and office space housed in Simpson's trademark shattered geometric forms.
It is clear that a PPC win would have delivered a subtly different flavour to the Games, irrespective of taste.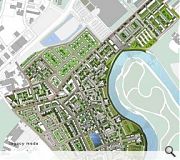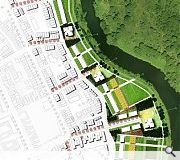 Back to June 2009