Very berry fruit salute
|
Send to friend
June 9 2009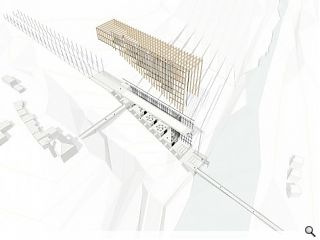 A feasibility study into a new visitor centre at the river Ericht, designed to promote improvements to the twin towns covered by the Blairgowrie & Rattray Regeneration Company has been tabled by Sutherland Hussey Architects and Land Use Consultants.
Situated along the southerly edge of a steep gorge where light, views and the drama of the location can be maximised the cliff top premises are described as a kind of 'umbrecula' - a large timber canopy covering a stepped winter-garden.
This concept pays homage to cane structures used for berry growing in the area around Blairgowrie – considered "the berry capital of the world" - indeed architects envisage that the timber structure will literally be used to grow fruit and berry canes and that these might, in part, offer a natural means of solar shade during the summer months as well as strengthening the relationship of the building to its natural surroundings..
Approach can be made to the structure by car or foot, most dramatically via a gorge straddling suspension bridge that leads the visitor into a large glazed winter-garden. This space ascends up the slope of the hill as a series of steps, which open directly out onto the new terraced landscape to the north and connect the top of the hill to the river below. Lifts are positioned at the east end of the building and connect to all activities via a series of viewing galleries where the winter-garden can be enjoyed from different positions.
A number of different facilities open onto the winter-garden terraces, allowing the visitor to enjoy the dramatic relationship to the outside within the comfort of a tempered and protected environment. The building would include an Ecology Centre, Education Resource Centre, Fishing Museum, shops and cafes.
The scheme also includes a proposal to renovate two listed eighteenth century Mill Buildings which currently lie derelict.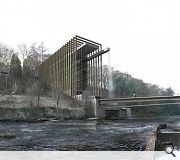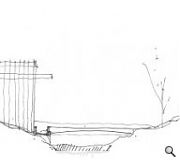 Back to June 2009