Wilson's Weekly Wrap: Sometimes conventions can be a bit too conventional
May 25 2009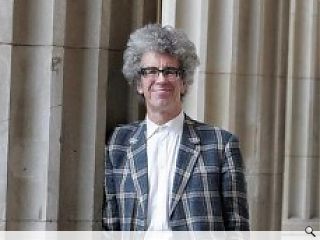 Sometimes conventions can be a bit too conventional
The Caird Hall in Dundee on a cold, wet day (in May!) is not something to cheer the heart, especially when its capacious interior is only partially filled. The only reason anyone could have for renting this miserable mausoleum is because it holds more people than anywhere else in Dundee (short of its football stadiums). But, in these financially imperilled times, getting people to spend money to attend conferences is spectacularly difficult and so it proved to be for the RIAS with its 2009 Convention. Maybe the idea of annual events like this is old hat; maybe people just can't afford a day and a half out of the office; maybe it was the theme ('Scottish Architects Abroad') but whatever the reason the turnout was apparently down considerably on the previous year. You couldn't fault the organisational arrangements for this but the chairman's opening remarks indicated a distinct lack of pizazz about things, not helped at all by the dampening effect of the hall's echoing volume.
Stepping up to the plate, Willie Watt, chair of the Dundee Institute of Architects, tried his best to excite the audience about the day to come, but Willie's style of delivery lacked the sparkle necessary to lift the crowd and it was left to Neil Baxter (stepping in for the - now ex-RIAS President Arnie Dunn) to bring a touch of dry humour to the proceedings. If only this had been followed by a presentation of real inspiration, but the partial and - it has to be said – graphically-challenged portrayal of Dundee's architectural past by its university's professor of architectural history, Charles McKean, proved only that there wasn't much to get excited about, a condition – according to the author's thesis – caused by the best projects always being given to outsiders. So much for the expansionist theme of the day.
Ric Russell of Nicoll Russell Studio in Broughty Ferry followed with an enjoyable account of how the few international opportunities his practice had found had generally turned to nought, a fact best exemplified by work on a major project in Shanghai on which he and his team never actually got to visit the city, never mind the site. By this stage the supposed successes of Scottish architects abroad was beginning to sound like that of Scottish football abroad, but fortunately Ian Ritchie (second generation Scot) strolled across the stage to give a well prepared polemic on the need to find markets for innovation, for these markets to be supported by public procurement and for innovation to be supported by solid research & development. Ian's talk was peppered with thought-provoking and well backed up statements such as "…customer is first is old fashioned – if you rely on the customer you won't come up with anything"; "no innovation without leadership"; and – quoting Pink Floyd's Roger Waters - " risk is great". If anything could come out of this Convention to the benefit of the wider membership of the RIAS it would be the publication of Ian Ritchie's presentation.
Stained glass artist John Clarke followed but aside from being based in Germany and showing some interesting images of his work, he was never likely to provide any real insights into the issues involved in securing work abroad and so it proved. Tom Macartney, by contrast, brought the kind of chippy Glaswegian edge only a quantity surveyor from that city can get away with in front of an architectural audience and although his work experience seemed to be wholly UK-based (unless for the purposes of this exercise, south of the border counts as 'abroad'), he did have some thoughts on phenomena such as the 'Bilbao effect' ("doesn't exist"). The key point of this panjandrum's talk though was that if architects really wanted to shape society they needed to challenge the authority of government, a statement that has long been self-evident but which in the current climate may mean the profession having to join the end of a very long queue. Artist David Mach came next but, experienced raconteur that he is, the theme of the day came second to an expletively frank and entertaining account of how he built a locomotive from bricks. 'Scottish Architects Abroad' would just have to wait for the afternoon session.
Post lunch, the programme was re-arranged to accommodate John McAslan's need to get back to London, but the master quickly set to with an account of the many projects he has undertaken overseas including the adaptive re-use of a Frank Lloyd Wright college in Florida. John's extensive charitable work may not be so well known, but his account of building affordable schools in Malawi was both heart warming and provocative. He then moved on to his work in that little bit of America that will always be Dunoon where not only has he helped to set up a trust to buy the Burgh Hall for £1 and which his practice is now working to bring back to life, but where he has also instigated the formation of three new local festivals (arts/film/music) around this re-invigorated cultural core. Sadly, John's suggestion that it is the duty of all architects to identify similar redundant buildings in small towns and help bring them back to life probably fell on deaf ears, but would that my pessimism on this could be proved to be wholly wrong.
Any feel good factor lingering from McAslan's presentation was swiftly swept aside by the next two speakers, both of whom represented international mega-practices of 1000 + employees. The projects on show here were equally gargantuan and – if truth be told – quite scary in their cultural implications. Tony Kettle of RMJM went first, explaining how the delicate curve of a Chinese temple's eaves line had established the concept for the practice's humongous Convention Centre at the Beijing Olympics, a demonstration if ever there was one that some things just don't scale up. He seemed genuinely miffed that people chose to get excited by Herzog & de Meuron's bird's nest stadium opposite rather than wonder at this Brobdingnagian masterpiece. Note Tony: size isn't everything.
RMJM's world empire is as nothing however, compared to that of Foster + Partners and Andy Bow, once the wunderkind of the Mackintosh School but now leading one of Norm's six teams, had plenty of ammunition to counter Tony's Top Guns. Now I know you're thinking 'Foster = high tech architecture' but on this showing it was most definitely 'Foster = high level whimsy' with such gems as a tower in the Far East containing "paddy fields in the air"; a Singaporean client who had been convinced to live in a building made of stained glass; and - not to be outdone by RMJM's Gazprom tower in the same city - a pale blue concrete edifice with golden interiors because "I love the colours of St Petersburg". What exactly this said about Scottish architects abroad is hard to quantify, but on a project in Dublin "for my friend Bono" the notion that the building needed some environmental features and so a further ten storeys of miscellaneous gadgetry were added merely led the Wrap to remember the aphoristic story of George Best who, when lounging in bed with yet another Miss World and surrounded by empty champagne bottles and suitcases of cash was asked by the hotel porter delivering room service: "where did it all go wrong George?"
After this fantasmagorica anything would have seemed downbeat, but Rab and Denise Bennetts romped through a catalogue of their work to help explain – for the first time in the day – how as architects they'd actually secured the commissions their practice carried out. Only one of these – as yet unbuilt - was actually abroad (Amsterdam) so we were left to presume that the Convention's theme of 'Scottish Architects Abroad' could be interpreted in two ways – those who had projects overseas and those who were based in lands furth of Scotland – and that real insight into the export opportunities for practitioners here would have to wait for another day. As a diversion from this and other such questions, however, a highpoint of the afternoon was undoubtedly the presentation to Bob Steedman of an 'RIAS Lifetime Achievement Award' and while this now elderly but still active trooper was clearly surprised by its announcement he was nevertheless able to make a gracious speech of acceptance and demonstrate just why architects of his quality still command real respect amongst their peers.
Forming the agenda - or simply reading it?
Another of the fascinating diversions at this year's RIAS Convention was the ceremonial transfer of the Incorporation's symbol of leadership, the gilded tamagotchi, from the most recent President, Arnie Dunn, to its newest, David Dunbar. Somehow this modest transfer of power - despite Secretary and Treasurer Neil Baxter's tongue-planted-firmly-in-cheek commentary on the proceedings - embodied everything that is anachronistic about the body's modus operandi in our digital age. At a time when the fabric of British democracy is under scrutiny, the RIAS serenely continues with its buggins-turn approach to the appointment of Presidents, a legacy of Empire that even the RIBA manages to eschew.
The problem of this form of leadership is not only is it unelected, but that the successful 'candidate' has not found it necessary to put any form of manifesto to the Incorporation's members. David Dunbar is very evidently well-meaning and committed, but I suspect that to most of the RIAS' membership he is unknown (he was to me) and that they have no idea how well or otherwise he might promote the profession's case in these difficult times. Sadly, in his first pronouncement to the press – as recorded by AJ – the signs are not entirely encouraging. The Incorporation's new Double D chose to hit the ground strolling with the suggestion that he was keen to put in place "schemes to encourage more membership engagement and look at ways RIAS can support members during the current chronic uncertainty."
The full, anaemic substance of this only becomes plain when you realise that one of these schemes was to discuss with John Swinney, Scottish Government Minister for Finance and Sustainable Growth, the possibility of a reduction in VAT. Now I don't know if DD is one of those Scottish architects who has been spending time working abroad and is thus unfamiliar with the devolved political world we've been living in for all of the 21st century to date, but I have to tell him that the subject of value added tax is not actually a devolved matter and consequently not something the Minister can do a blessed thing about. David, of course, has two whole years to up his game, but it's not been a noticeable trait of his predecessors to manage a similar feat and the fear must be that once again an RIAS Presidency will fail to engage with the hard world that's out there.
Money for nothing
Not content with having so spectacularly mismanaged the £537m budget for its new tram system that the final result will probably run, Blackpool-like, only the length of Princes Street, the City of Edinburgh Council continues to put forward plans for all kinds of things for which it has not a bean available. The latest notion being trailed in the local newspapers is for a new £30m indoor concert venue holding 6000 people to be built somewhere in the capital, a facility we are told is needed to help Auld Reekie compete with "Scotland's other major touring venues". That'll be Glasgow then, since the big blockbuster rock shows tend not to find themselves in Aberdeen, Dundee or Inverness. But no matter – even in these troubled times the unworldly councillors of Edinburgh who have approved this strategy intend to ask the Scottish Government and Scottish Enterprise to help pay for the new arena which – like everything else - is mooted for a position on the city's now firmly beached Waterfront, Yes, that's the very same Waterfront the trams were supposed to travel to and presumably carry the 6000 music lovers necessary to fill the proposed venue on a regular basis.
In case Wrap readers are in any doubt that the nation's capital is in the grip of the politically insane, it should be pointed out that this latest idea is not a stand-alone. Mercy-me, no – the idea is contained in the long-awaited £120k review of the city's cultural venues which also concluded that Edinburgh needed a 'medium scale' concert and conference venue. Oh, and a new comedy venue (the City Chambers is clearly not enough) as well as the long-mooted home for the Edinburgh International Film Festival, the latter a notion that at least proves the Richard Murphy dream is still alive and well amongst the city's nomenklatura. Of course, there's no money for these projects either.
But I get ahead of myself – the council also recently announced plans for a £6m 'Forth Waterfront Walkway' so that the city's pet owners can poop-scoop all the way from Granton to Portobello (nope, no funding) and for a study to begin on the possibility of a tram line spur to Edinburgh Royal Infirmary (for which – you guessed it – there is not a single penny-piece on the table) despite the fact that tram line I(b) that was supposed to go to the Waterfront has been shelved for lack of money. To be fair, it only took £3m of its tram budget to be consumed before the Council got to that decision, which probably means it is the most expensive non-tram ride the public has ever been taken on and therefore a civic achievement to be cherished. Never mind though, with the cleaning-out of the Augean stables at Westminster, the good men and true of Edinburgh Council could well find themselves elevated to MP status at a future General Election and possibly charged with delivering the Olympics on time and on budget. OK, only joking….I think.
Back though, to the concert venue notion: is it not possible for once to let Glasgow have the ball? After all, if the second city could only sort out the neanderthal parking arrangements at the SECC, most people would, I suspect, be happy to travel there given that it would take much less time and infinitely less embodied energy than finding a consistent route through the potholes and craters of Edinburgh to its endlessly-embryonic Waterfront.
Less than commanding performance
On which note we segue neatly to the departure of the city's very own Don Quixote, design champion Sir Terry Farrell. The occasion was a one-day conference grandly-styled as a 'Festival of Place Making'. Tel has been Edinburgh's DC since February 2004 and so you presumed he would have a few things to say about what he's done and/or achieved in the time he's been ploughing his unpaid furrow. Not a bit of it – you get what you pay for in this world, so what we got was pretty much the same presentation he delivered when he was first appointed all those years ago – plus a tilt at the windmill previously known as trams. Oh, there were a number of those touchy-feely audience participation voting moments when we all got to feel chipper about agreeing with Terry's views on the subject, but since Rocinante was waiting to transport him from his own party to another gig in Newcastle, he wasn't about to answer any questions on what exactly the city had gained from his tenure.
To be fair, around twelve months ago Tel obviously noticed a certain lack of visible output on his part and took it upon himself to come down from the mountain with his twelve commandments (sorry, 'challenges') on city planning. And before you ask, no, he didn't bother to tell us what they were (you have to go to last year's special issue of Prospect for them if you're interested), but we did get pics of lots of Farrell projects in exotic places as a sort of Pearl & Dean advertising preview to the main substance of his talk. Sadly the former took more time than the latter and what, with interactive votes and all, Tel Boy barely had time left to once again rabbit on about the need for a centre for urbanism (item xi from his tablets of stone).
Looking back at the 'Edinburgh is changing…12 challenges from the urban design champion' issue of Prospect shows all too clearly how unlikely such a thing is to materialise. At the time, Don T saw such a facility complimenting (sic) the Lighthouse, which he considered to be "substantially an architecture centre", an assertion that only demonstrated he hadn't spent much time in the Glasgow emporium. And if you think I'm being overly critical of our good knight's performance, ask yourself these questions - What exactly do you feel has been achieved from his input on any of the twelve issues he identified during his term of office? Which of his recommendations on any of the twelve do think will be followed up on by the City of Edinburgh Council now that he's left the stage? And do you think the City will appoint another 'Design Champion' to replace him? No prizes for answering 'nothing', 'none' and 'no' I'm afraid, but at least Tel's not likely to find himself criticised for his expense claims, so if you hear anyone saying "no loss to Edinburgh", you can be sure the statement won't be referring to money.
Is it a bird? Is it a plane? No, but it might actually be a real competition
After years of Mickey Mouse architectural competitions in Scotland, could it be that we've finally got one that is (a) actually fair and (b) likely to get built? I refer of course to the just announced shortlist for the much-hyped Glasgow School of Art competition. Nine and a half thousand downloads of the documents, 153 applications and now a final list of seven for the judges to choose from. Aside from the fact that the pre-announcement of the level of initial interest probably put many people off from actually filling in the entry forms, the absence of Pritzker Prize winners such as Chipperfield, Foster and Hadid has come as a real shock to the metropolitan architectural press, so much so that we can now probably expect very little reflection from them on the project.
Which would be a shame since the list is actually a good one: three excellent Glasgow practices (Elder and Cannon flying solo plus two that are teamed up with others – JM Architects with New York's Steven Holl and Nord with John McAslan and Partners); Benson + Forsyth and Hopkins Architects from London; Grafton Architects from Dublin; and the surprising but nevertheless intriguing outside choice of Francisco Mangado from Pamplona in Spain. Any one of these is capable of delivering an excellent solution and you have to feel a teensy tad of confidence that for once the best could actually win. For those of you of a betting persuasion, however, a word of caution: Senor Mangado's name has not yet been linked to RMJM, but there's still time.
And finally…
This one's a teensy bit morbid, I'll grant you, but it has a certain piquancy that is really too good not to bring to a wider audience than that commanded these days by the Times. Somewhere in Spain recently a burglar tried to enter a house via its chimney but got stuck and died after several days. The 30-year old man was found by the house's owner who used the place as a second home. And the location of the dwelling in which this tragic mishap took place? The small hamlet of Moron de la Frontera, apparently. I have no idea what the police investigation will bring to light, but my money's on the burglar turning out to have been a local.
Back to May 2009