Cooking up a treat?
May 25 2009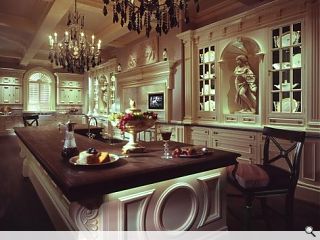 Clive Christian will unleash their latest architectural kitchen upon an unsuspecting public this month.
The eclectic and ostentatious brew is dressed in artists favourite wine, fruit and cheese and sports a pair of Greek nymphs surveying the galley.
Signature chandeliers and floor to ceiling furniture, labelled "eccentric", provides distinction from your average IKEA flat pack and is intended to metamorphose the humble work space into an "ultra luxe" accoutrement.
Christian is a British designer who aims to showcase what can be achieved when all concepts of cost and fashion are carefully pulled together, scrunched up into a little ball and lobbed out the nearest window.
Back to May 2009