Open door for Deramore at Princes St
May 8 2009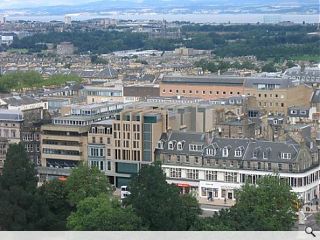 City of Edinburgh Council have awarded full planning permission to Deramore Property Group for redevelopment of 121-123 Princes Street.
Archial Architects will transform the presently dilapidated premises, shrouded in scaffolding due to dangerous stonework, by providing enhanced retail space on lower levels and hotel accommodation amounting to 97 bedrooms above.
Already New Look have signed up for a flagship store whilst a hotel operator remains to be found.
Cameron Walker, Director at Archial Architects, commented: "This is the first significant consent at this end of Princes Street since the Palace Hotel was demolished to make way for 7 Castle Street and the first new hotel on Princes Street for around 50 years. It also marks the first significant consent to complement the Council's String of Pearls concept."
Deramore plan to be on site later this year.
Back to May 2009