Indigo shakes recession blues
|
Send to friend
April 22 2009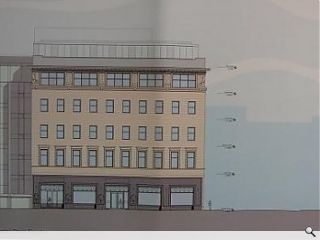 Hotel Indigo have announced desire to join Glasgow's lengthening queue of hotel proposals after spying opportunity in a derelict office block at 75 Waterloo Street.
The former power station and office block has already been substantially remodelled in the 1930's with an art deco inspired makeover, all of which will be retained in ICA Architects 21st century upgrade.
Indeed the only appreciable difference from the street will be the addition of an obligatory glazed rooftop appendage, maximising those all important floor areas.
Budgeted at £5.5m the in vogue "boutique hotel" will cater for a growing proportion of travellers who remain unappreciative of the charms of more established chains.
Back to April 2009