Tiger pounces on Haymarket
|
Send to friend
April 21 2009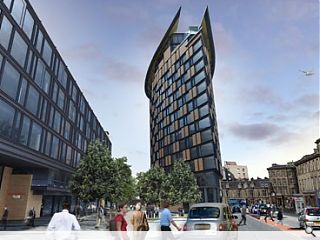 Tiger Developments £250m Haymarket scheme now looks more likely to witness construction following the announcement that supermarket and car park operators have been lined up as tenants.
They join InterContinental Hotel Group who have signed up for the 17 storey, 192 bedroom hotel and Travelodge who will occupy a nearby 245 room hotel.
With prospective occupiers in place funding is more likely to be arranged assuming a positive outcome to a forthcoming public inquiry into the scheme.
In addition to these hotels the former Morrison Street goods yard will accommodate three office buildings, shops, cafes and restaurants
As yet no occupiers have been found for the office portion of the scheme but Tiger remain confident in the long term prospects for the site, scheduling the office portion for a later phase.
The inquiry is scheduled to take place over two weeks from May 25 but Scottish Ministers will not verify any decision until the end of August.
Haymarket is being designed by Richard Murphy architects, the largest project the practice has ever contemplated. CDA Architects and Sutherland Hussey will design some component buildings within the masterplan.
Back to April 2009