Oliver Chapman revel in their treble
Send to friend
* Required fields
|
Send to friend
April 16 2009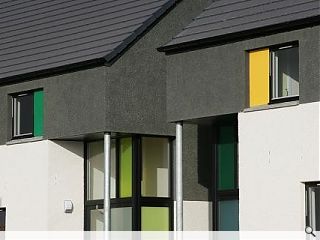 Oliver Chapman Architects have scored a hat trick of success after RIBA's shortlisting of their affordable housing scheme in the fishing port of Eyemouth, Berwickshire, for a regional award.
Last year, the same team secured an RIBA award for their supported housing at Todlaw, Duns and in 2006 their sustainable semi-detached houses on the edge of the village of Swinton were also shortlisted for the same award, a matter of pride for project architect Michael Collins: "It's a lesson appropriate for this recession that even designing affordable housing on very tight budgets can still demonstrate good design ideas that get noticed".
The winning scheme, Gunsgreenhill Affordable Housing Project, comprises nine two-bedroom affordable houses on a narrow strip of land at the edge of the original Gunsgreen Estate and proved particularly challenging because of the considerable falls across the cliff hugging site. Adversity has reaped advantage however with the slope being utilized to allow ground floor living rooms to be elevated 1.5m above the street level car parking with south facing windows.
Housing has been arranged into groups of three with a rhythm of pairs mirrored along separating party walls. This avoids an overly dominant order of three symmetrical blocks and instead creates a less formal rhythm of 'A B A gap B A B gap A B A'. Fully glazed entrances are recessed one metre to provide a threshold and shade to the glazing.
Back to April 2009