Able partnership sustains low carb housing
|
Send to friend
April 8 2009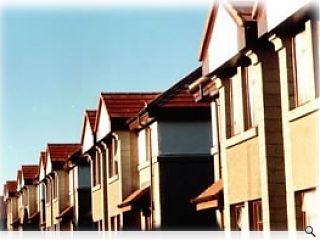 Britain's largest housing co-operative, Tenants First Housing (TFH), is launching a three year programme to develop carbon neutral housing.
The scheme, described as a "Knowledge Transfer Partnership" between TFH and the Mackintosh School of Architecture (MSA), will employ a full time architect.
It is hoped this pairing can achieve the maximum six star rating in the government's national code for sustainable homes, indicating low carbon emissions and high sustainability practices.
Euan Barr, Project Manager with Tenants First, explained: "Tenants First has a record of innovation in construction techniques aimed at improving the efficiency and quality of the homes we build for our members. Most notable are our award-winning projects at Ballater where we utilised a Dutch construction system never seen in this country before, and Peterhead where we piloted offsite timber frame technology.
"One of the challenges we will face is that the technologies to reduce carbon emissions can be costly. As an organisation dedicated to providing affordable homes, we need to find a way of achieving six-star standards of sustainability, without the high cost."
Back to April 2009