Environmental change comes to a Head
|
Send to friend
April 6 2009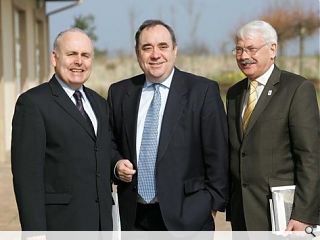 Peter Head, Arup's international sustainability planner, heralds the onset of a new "ecological age of human civilisation" at the recent Scottish Council for Development and Industry Annual Forum.
Head noted: "For several decades, it has dawned on many of us that there can be no viable future for humanity without a healthy planet. Earth, water and air support the existence of an immensely complex living system, powered by the sun. We are part of this web of life.
"But within a few generations, we are using up most of the earth's stored fossil fuel resources and their transfer from the earth to the atmosphere is substantially altering its composition. Our globalised economic system is destabilising the planet's life-support systems - the very systems that support us and the future of our children.
"The direct impact of this on human development, plus rising food and resource costs means that current economic growth is rapidly becoming unsustainable and a global transition is underway to the ecological age of human civilisation."
Amongst the measures Head envisages as remedy by 2050 are electric and hydrogen fuelled transport, algae bioreactors, methods for the digestion of waste in the absence of oxygen and intensive food production using hydroponics and nutrient feed.
These would fuse the ecological and economic models upon which we depend into something approaching harmony.
Brian Veitch (left) and Peter Head, both from Arup, met Scotland's First Minister Alex Salmond to discuss releasing human development from the shackles of the industrial age.
Back to April 2009