Medieval secrets revealed at St Andrew's
|
Send to friend
April 6 2009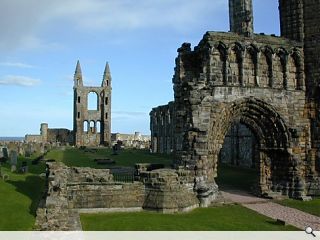 A recently uncovered stonemason's sketch from the 13th century sheds light on the design process for medieval masons.
Archaeologists at St Andrew's cathedral have discovered a series of carved markings on the underside of a pillar fragment that clearly depict the plan of a wall with a three-lobed attached column.
Also in evidence were a set of four circles, precisely crafted using a compass which are thought to be plans for the bases of a series of columns still in evidence on the upper surface of the base.
Hugh Morrison, Historic Scotland collections registrar, said: "It is quite remarkable to have found what appear to be mason's plans for part of one of Scotland's great historic buildings.
"They come from an era before professional architects when masons were largely responsible for design and building.
"They were people of remarkable skill and ability, but there are few surviving written records to tell us about who they were and how they went about their work.
"So to have this direct view into the life and work of one of these men, from so many centuries ago, is quite wonderful."
Back to April 2009