Caltongate fate sparks rancour
|
Send to friend
April 2 2009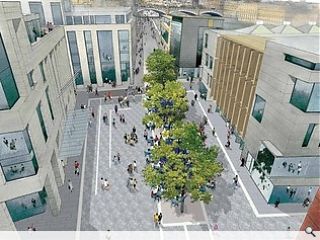 SOOT, Save Our Old Town, are celebrating a pyric victory on the ashes of Caltongate after Mountgrange's untimely demise having pursued a scorched earth aversion to big budget development in the area.
But Malcolm Fraser, one of the architects involved, has crossed trenches between embattled camps in a bid to put the case for development direct to the lions den in the midst of Caltongate's darkest hour.
Here Fraser mounts a spirited defence of the capitals controversial scheme in the face of vociferous attack from NIMBY's and conservationists.
Fraser says: "The collapse of Mountgrange Capital, the developer behind the Edinburgh Old Town "Caltongate" project, following the withdrawal of funding by their bankers, Lloyds TSB/HBOS, provokes contrasting reactions. A fact highlighted by the reaction of the anti-Caltongate "Save Our Old Town" (SOOT) group of locals and conservationists, who have campaigned against what they have claimed would "destroy Edinburgh". They held – by coincidence I think – their AGM, at Old St Pauls Church in the Old Town.
"My practice is one of Caltongate's architects, for a small but important corner of the site at Jeffrey Street, and I went along to the meeting – with some trepidation, as I've been regularly pilloried by them. I raised some other reactions to the development's current problems and found them to be polite, keen to listen and discuss. First was the thought that, in a plunging recession, with hundreds of thousands of people losing their jobs and homes, the creation of up to two thousand jobs and around 200 homes, 40 of which were to be "affordable", is an odd sort of destruction, and its postponement an odd sort of victory, even for individuals who promoted their campaign with "Let's hope for a long and bloody battle".
"The "scale and mix" of the proposals has infuriated them. Yet I am writing this in my office little more than 100 yards from the site, in a towering 10-storey "traditional" Old Town building, part of the comprehensive redevelopment around North Bridge that included offices, a luxury hotel, upmarket shops and luxury flats – an almost identical programme to Caltongate, though minus the affordable homes and twice as high. Local worthies like Ricky Demarco, who would happily parade abroad in a luxury hotel, believe that for Edinburgh to welcome tourists here in a new one is, somehow, a capitalist outrage. Oddest of all is the reaction of Ian Begg, architect of the 8-and-9-storey luxury SAS Radisson (nee Scandic Crowne) Hotel nearby on the High Street, built in a shortbread-tin-pastiche style which is proscribed by UNESCO and that obliterated three hugely-historic closes with its vast bulk. He was praised for attacking the "scale and style" of Caltongate's 6-and-7-storey luxury hotel, with its respectful modern architecture set within the site's recreation of closes.
"SOOT's alternative mix leads with affordable housing and Farmers' Markets. All regeneration needs to balance public and private investment, and in a climate where Scotland has hugely-underprivileged communities in desperate need of public assistance, the idea that we should spurn private investment keen to regenerate the Canongate, to divert public money into it, is pure Brigadoon.
"Caltongate will demolish two C-listed buildings and some other structures. We are learning to take much more care with the buildings of the past than our forebears did, but we might still note that this is the least demolition any major redevelopment of the Old Town has ever seen. My practice had been asked whether we would consider demolishing one of them – the Canongate Venue, a Victorian former-school – and said no. It has a solidity, craft and integrity that we no longer achieve today. Nevertheless it sits alien and awkward in the Old Town close pattern and we recognise that the characteristic fishbone urban structure, that is of international significance, is strengthened by its replacement.
"Overall there are things on the main site my practice would have done differently – but then there always is, what architect would not feel that? What is indisputable is that the proposals were vastly improved during the Planning process – and are hugely better than schemes previously granted permission for the site.
"My practice's site is on the corner of Jeffrey Street, on the small car park opposite the new Council headquarters. Some Edinburgh people will remember the pedestrian bridge that, till the mid-60s, sprung from Jeffrey Street and accessed and crossed Waverley Station, to join the end of Calton Road at Leith Street. It preserved the route of the old Leith Wynd, the main road north out of Edinburgh for at least 1200 years (an original northern tail of the Roman Dere Street) until the building of the first North Bridge. Leith Wynd was lined by tall tenements, up to 6 stories, that framed the view north, of Calton Hill. We are reintroducing the start of Leith Wynd (with the hope that the rest might follow) and the framing of the view, and the mediaeval bustle and density that the Victorian builders of Jeffrey Street demolished. SOOT, the Cockburn Association and others are furious with us – apparently we should hang our heads in shame! What has happened to the Heritage Lobby when it works-up such a blind rage, that it fights against mediaeval urban bustle, and ends-up supporting demolition (whether Victorian or modern is irrelevant), car parks and the rubbing-out of ancient routes?
"I have campaigned for Edinburgh all my life, and my practice has rescued and renewed a great many historic buildings within the city and carefully woven new ones amongst them, as we intend to do here. I hugely admire the vigour and local advocacy of the campaign, and hope to play some part in persuading the community that private development is not only inevitable but desirable, and that their advocacy is more effective shorn of unhealthy rage."
Back to April 2009