Ayr campus rumpus
|
Send to friend
April 2 2009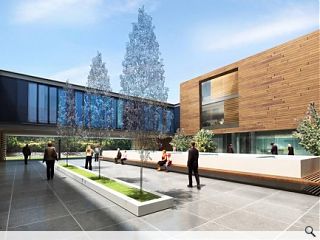 Architecture & Design Scotland, fresh from savaging Bothwell Plaza, have switched their sights to RMJM's Ayr campus for the University of the West of Scotland.
Concerns were raised in relation to a "large expanse of impervious walling" that contributed to a "fortified nature," that gave inadequate consideration to outside space.
It was felt that limiting ground level permeability would hinder rather than alleviate security concerns and further qualms were voiced over the relationship of the proposals to nearby grade A listed Craigie House.
This advice is at odds with Historic Scotland's own opinion however with the heritage steward stating it has no concerns over the proposal.
Detailed planning approval has yet to be awarded for the first phase main university building, part of a wider £250m masterplan for the campus and RMJM continue to refine the design.
Back to April 2009