Google's goggles send UK agog
|
Send to friend
March 19 2009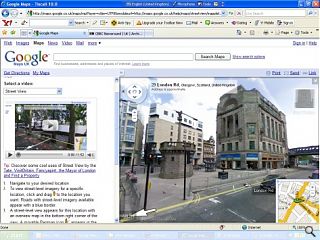 Google's long awaited Street View Service has finally arrived in the UK, allowing British users access to galleries of photographic images from across our major urban areas.
Using Google's familiar map interface users can navigate to a desired geographical location before dragging a "pegman" icon over the selected locale, using the magic of the Californian giants technical wizardry a fully panoramic photographic vista of the chosen point is then displayed.
The software serves as a useful navigational tool for unfamiliar areas and offers unlimited fun in exploring famous and not so famous haunts, without actually having to expend any effort.
Possibilities do not end here however and amongst the range of uses already put forward is a form of augmented reality where a range of user dictated information can be overlayed across familiar street scenes. This can display anything from the identity of the nearest pubs, to local artwork and property listings.
Cutting edge face recognition technology identifies and obscures the faces of citizens caught in the glare of Google's omnipresent cameras so users won't be able to identify any immortalised strangers. Vehicle registration plates are similarly treated.
Despite representing reality to an extraordinary degree Google's coders have found the time to insert one spurious character, Wally of "Where's Wally?" fame, to a top secret UK locale.
Back to March 2009