Cunard's future on the liner
|
Send to friend
March 18 2009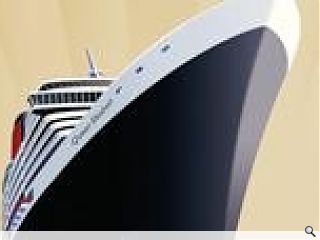 Cunard have officially unveiled their new Queen Elizabeth ocean liner, the second largest Cunard vessel ever to float.
Costed at a whopping £365m the vessel harks back to the romance of sailings golden age, specifically the original Queen Elizabeth, launched in 1938 and the QE2. So faithful is this homage that the vessel would not be unfamiliar to generations past sporting art deco elegance, a grand ballroom, games deck for croquet and bowls alongside such time honoured activities as country house parties, piano evenings and period dancing.
Tipping the scales at a hefty 92,000 tons the liner will unfortunately not be a feature of the Clyde shipyards with work being sourced to Italian firm Fincantieri.
Nevertheless those with the desire (and the pockets) will be able to sample ocean life sooner than not when The Queen Elizabeth makes her maiden voyage on 12 October, 2010.
Icebergs shouldn't prove problematical in this instance as the vessel will be touring sunnier climes around Lisbon, Tenerife and Madeira.
Back to March 2009