Roslin vets get set for new facility
|
Send to friend
March 2 2009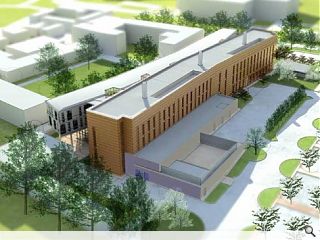 The Roslin Institute are to build a new research centre at their Easter Bush campus in a collocation project involving the Scottish Agricultural College and the Royal Veterinary School of the University of Edinburgh.
Specifically the Institute will address issues relating to animal health and welfare, investigating the impact upon human health of the world's menagerie and the particular role each link plays in the food chain with particular attention devoted to the uppermost rung, us.
Designed by HDR CUH2A, an alphabetical soup of complex chemical formulae, the facility is intended to effect minimal impact upon the local environment with highest savings in non-renewable energy. In practice this is provided through natural ventilation
A DNA inspired atrium links the linear strands of lab space and offices.
Back to March 2009