Dunning Primary gunning for glory
February 19 2009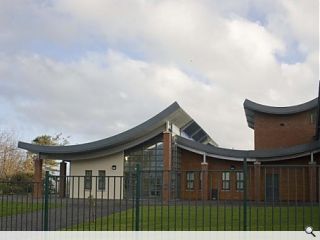 Dunning Primary School has recently been refurbished and extended by Perth & Kinross Council (PKC), delivering a new-build school extension in conjunction with retention of an existing Victorian schoolhouse for PKC- Education & Childrens Services.
A key challenge facing the Construction Services Department at PKC and Mansell Plc was the retention of a sense of identity accorded by this historic structure. This has been achieved through varying the design of elevations and roofscape to break the overall mass down into easily identifiable units.
The extension focuses upon a central reception space from which circulation areas spiral in curves rather than corners to provide access to some five classrooms, stores, break out areas, gym hall and administration facilities.
Dominated by a sweeping overhanging roof driven by the need to provide natural daylight and ventilation, these curves are picked up internally through suspended ceilings which follow the roofs curvature. This unconventional approach is a nod to ecclesiastical architecture and is picked up in a multi-paned triangular screen and "gothic" windows.
This window on the past is reflected in the elevated profile of the structure, designed to provide an unbroken view of ancient Pictish standing stones which dominate the local landscape.
Despite embracing the past the school is unashamedly modern and sports the very latest in environmental and technical wizardry including automatic lighting controls; solar panels to pre-heat water; automatically opened high level windows for natural ventilation; a sprinkler system which is fed off of the main water supply; water appliances with water saving devices fitted to them; low flush cisterns; and sunpipes to naturally light deep plan areas.
Each classroom is served with an overhead projected smart board with full data and power connections to a common server.
Project Quantity Surveyor Scott Nicoll said: "The juxtaposition of the Victorian and modern has not been visually acrimonious and the existing and new building stand as a strong statement of Dunning's past and its exciting future."
Back to February 2009