Wallpaper art win for Stirling Management Centre
|
Send to friend
February 13 2009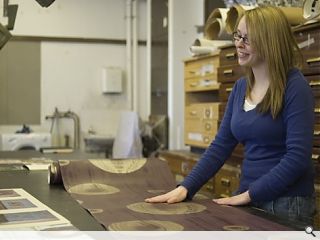 Stirling Management Centre have announced that Gillian Boyd, a final year textiles student at Edinburgh College of Art, has won a competition to design an interior look for the Centre.
The winning scheme comprises a colourful screen-printed wallpaper that will be used to adorn two restaurants in the building, to the delight of Boyd who said: "It was great experience doing a real project, which I will now be able to take into production and use as part of my academic work."
Boyd's wallpaper features large circular motifs using metallic inks that react in a particular way with light, affording the composition a critical added dimension. Boyd explained: "I wanted a luxurious feel and I've been experimenting with translucence and optical illusions. I wanted a feeling of movement. I put all of that together, based on some photographs of things like footprints in the sand and came up with my design. In future I want to study how light affects textiles in more depth and this project certainly gives a good foundation for that."
The competition was designed to mark the completion of the recently refurbished and extended centre through a uniquely visual approach, the Centre's new shimmering loops of light providing an attractive visual feast come luncheon.
Back to February 2009