Wilson's Weekly Wrap: Gold standard, Oh Kolkata & Wandering tsar
January 26 2009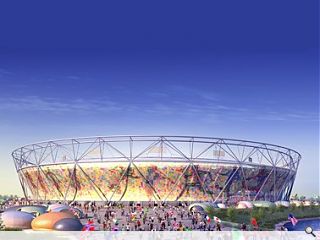 Gold Standard
It's been a few weeks since we last looked at Millennium Dome II - sorry the London Olympics – and the rich trove of political euphemisms it continues to generate over the runaway cost of it all. Admittedly, keeping track of the announcements and, more importantly, the cumulative cost of them, is a bit of a full time task, but the government has said it's keen to create new jobs in these difficult times so we can presumably take this statement at full value. Which is more than can be said for the event's contingency fund, already sorely tested and now as fast disappearing as share value on a Gogarburn dyke.
This time it's the media centre and the athlete's village schemes that have their hands out for more dosh, both projects you will remember that were supposed to be substantially financed by the private sector. The latter was originally priced at a bumper £850m, but developer Lend Lease, taking a lesson from the nation's cyclists, quickly realised that back-pedalling puts the brakes on and came back to Tessa Jowell for £95m from the contingency fund just to get the wheels turning again. Now they've got another £231m from the same pot and, while the lid was off, the media centre did a hit and run on it for £135m – this for what was intended to be a temporary project.
In theory it will now cost £355m instead of the previously mooted £385m – a theoretical saving of £30m but the original scheme that was supposed to be part-funded by the developer will now be financed in its entirety by the Olympic Delivery Authority (ODA), a very fancy title for you and me. With only £600m of the £2.2bn contingency fund now remaining and with three years to go until the Games open, it surely can't be long before Lord Fraser gets the call to ask fellow peer, Lord Coe, where exactly it all went wrong.
But let's return to the whole role of temporary structures in the Olympic bid. The premise was that these buildings would be dismantled and re-used for sport throughout the country, but we shouldn't delude ourselves on this one – temporary structures are practically never re-erected because the budget to do so is rarely thought about at the outset. Think Expo '92, think Seville: did Grimshaw's temporary British Pavilion ever see the light of day again? Fast forward to Venice Architecture Biennale 2008 and think Scottish Pavilion. Will it be reconstructed on Glasgow's Custom House Quay as the Lighthouse optimistically hopes? In this financial climate?
Temporary projects can actually have a real value in the testing of ideas and we shouldn't need to pretend they have an after-life but, given the government's desire to justify Olympic spending by suggesting the re-use of temporary, custom-designed buildings, it will be interesting to see how many materialise at Glasgow's Commonwealth Games, a mere 24 months after they've taken the bunting down in East London.
Oh, Kolkata
Continuing for a bit on the same theme, the decision by Graeme Massie Architects to withdraw from designing the temporary Scottish pavilion at the Kolkata Book Fair in India has to be a disappointment for this talented practice, especially since a couple of its other competitions wins of late have been sited in Iceland, not now a place likely to be building very much at all. The reputation of Massie's practice has been largely developed on the back of competition success both here and abroad but, sadly, all too few of these projects have matured into finished buildings and, in this credit-crunched world, who would bet the house on any of them ever reaching that stage?
The practice was recently shortlisted in another competition – this time in Lancashire – but it being for public spaces and artworks (a bit of a practice strength), you somehow doubt the regeneration of Clitheroe by this means is exactly imminent. The real issue here though is that Massie is an architect prepared to go out and take on the world from his Edinburgh base and as such exemplifies the kind of entrepreneurship the Scottish government maintains it wants to foster. Now, more than ever, it needs to find the means to support this kind of pioneering spirit. Are you listening Mr Mather, Mrs Fabiani et al?
Wandering Tsar
You know what it's like when you're busy – you speed read and sometimes don't catch the gist of things properly. So it was with an article in last Wednesday's Scotsman 'entitled "quality of capital's new buildings slammed" alongside a picture of Sir Terry Farrell. My first reaction was surprise – the very idea that Tel would speak out on city development in anything other than abstractions wasn't something I'd ever considered as a realistic possibility before, but here it was in black and white.
Except that it wasn't – the article had actually been prompted by the Architectural Heritage Society of Scotland, the Forth and Borders members of which, bless their cotton socks, feel that our noble design Tsar has been a mite mute in the midst of all the controversy surrounding the Caltongate and Haymarket developments as well as the plans (now approved) for the Cowgate fire site. Now I don't want to disillusion the worthy members, but really, seriously, why on earth do they think Sir Tel has any possible reason to speak out on specific projects in the city?
First of all, he's not paid for the job and we all know that you get what you pay for in this world – in any case (as reported in previous Wraps) there is hardly a town in the south of England that he's not performing a similar function for; second he still has an office in the city which, like every other practice, is not only looking for work but hoping to successfully traverse the planning system with any projects it does have; and third, given previous criticisms of his role by Allan Murray he is hardly likely to use the position to carp about the projects of his voluble adversary, no matter how much the AHSS would like him to do so. Pointless job really, but then you do get to be a Tsar.
New Age of Mannerism
Now that we're on the subject, i.e. Murrayburgh, it's interesting to see the scaffolding coming down on the maestro's new hotel at the corner of the High Street and George IV Bridge. I won't write a critique of the building here – its still not finished after all - but suffice to say I think we are seeing the early emergence of a new age of capital architecture, a sort of neo-mannerist school of design that's epitomised here by the timber shutters to the bedroom windows. Said shutters appear to be fixed at an unusual angle to the opening, being either permanently half-open or half-closed depending on your level of optimism about this kind of stylistic affectation. On its own of course, we could simply place it in the category the Victorians labelled as 'whimsical gimcrackery', but there's more, much more of this kind of thing appearing around town.
The largest example of this new mannerism is to be found just off Lothian Road where Tollcross heads off west towards Fountainbridge. On the corner where Fat Sam's disco used to be, a vast new office complex – an extension to Scottish Widows headquarters - is emerging and well worth some serious architectural analysis. Aside from the cube of darkened glass poking out of the curved, stone-clad corner, the long elevation has a deeply inset curtain wall on top of which are stuck some vertical cast stone panels, each apparently unsupported by anything more structural than a fridge magnet.
The effect is perplexing and you have to wonder who is responsible – did the planners, for example, react to the curtain wall and ask for some mock stone to relieve the expanse of glass, or did the architects come up with this ingenious solution all by themselves? Again, you may find this to be either a witty or witless solution depending upon your taste and whether or not you think Michaelangelo is the name of a George Street hairdresser. That said, I know you wouldn't want the Wrap to equivocate in the way that so many architectural magazines do and whilst I'm curious about the architects and their ability to cre8 unusual façade solutions, there's no getting round the fact here lads - you've produced an absolute honker.
And Finally….
Pity poor Gordon Brown – he may have saved the world but still managed to come across on the Today programme as a man for whom kryptonite remains a danger, not the least being the way in which it brings out a quite unattractive feature in the man, viz. an unusual form of Tourette's syndrome that causes him to swear repeatedly: 'It's America's fault'.
No such problems for Scotland's real economic galactico, Peter Morrison, the chief executive of RMJM who, over the weekend, managed to reach a much wider radio audience (twice) on the BBC World Service with his buccaneering tales of derring-do. Actually he was telling the world how he has "transformed the fortunes" of RMJM and is "structuring the business to survive and thrive", but given that he was positioned on the programme alongside senior figures from Google and Interbrand, it seems reasonable to believe from Peter's peroration that – following the demise of the nation's banks – his company will soon rise to become Scotland's premier export brand.
A RMJM press release on the rebranding of RBS International as RMJM International is surely imminent (the company did, after all, produce the original Turnhouse Airport terminal building), to be swiftly followed by early announcements of new direct flights to destinations whose names just happen to end in –stan.
Back to January 2009