M74 speeds ahead
December 5 2008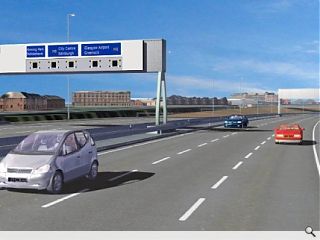 Interlink M74, a consortium of Balfour Beatty, Morgan Est, Morrison Construction and Sir Robert McAlpine have taken to the road to prepare the ground for Glasgow's M74.
The five mile stretch of motorway between Fullarton Road Junction near Carmyle and the M8 just west of the Kingston Bridge is regarded as "the missing link" in a motorway loop encircling the city.
The ex industrial nature of the proposed route presents several complications, not least of which are a series of abandoned mine workings which will require the drilling of thousands of bore holes. Pumped full of a concrete grout these will provide a stable platform to prevent future travellers from sinking into a mire.
This will be one of the largest ground stabilisation projects ever undertaken in Scotland.
Upon anticipated completion in 2011 the schemes backers, Glasgow City, South Lanarkshire and Renfrewshire Councils envisage relief to the congested M8 through Glasgow.
Back to December 2008