Students live the high life
December 5 2008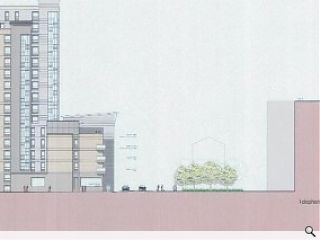 Gorgie could find itself in possession of a skyline with the arrival of 164 towering student dorms.
The student mecca has jumped from the pen of Covell Matthews Architects who have been briefed by developers Kenmore to provide accommodation for 708 students and 850sq m of retail space.
Uncommonly a veterinary practice will be situated on site, perhaps an allusion to the inevitable animal house antics of Gorgie's newest denizens.
Predictably the proposed scale of works, twin towers rising to 12 and 14 floors, has elicited concern over height, but sources advise these were "familiar rebukes from the vertically challenged".
Nonetheless the blocks Rafael Moneo inspired window alignment and cladding combo of facing brick, metal cladding, curtain walling and render is said to be unlikely to set the heather on fire.
A decked rooftop garden will be provided for the amenity of residents.
Back to December 2008