Size matters
December 1 2008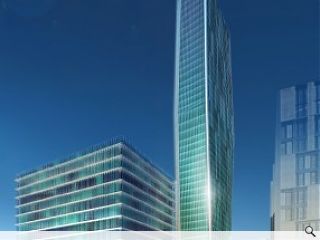 Reaching the big four-o remains a cause of anxiety for many, but in cityscape terms it looks to remain a forever unattainable goal.
Cooper Cromar's emerald palace, a competition entry for HF Developments at 236 Broomielaw, would have set a new height limit for the city by busting the 40 floor barrier.
The mixed use scheme built to house a 600 person banqueting facility, hotel and associated office block by the banks of the Clyde at Anderston Quay, would have constituted one of the largest developments yet seen in Glasgow.
In the end up the scheme fell by the wayside as the partnership between Kenmore and gm+ad stormed through.
In marrying visually with the distinctive palette of an ill fated Elphinstone Place Cooper Cromar's vision alludes to an alternate city where the future's bright, the future's turquoise.
The design was made public via a temporary website viewable at,
http://www.coopercromar.com/interim/index.html
. This will be in operation until the practice relaunch their online presence in the new year.
Back to December 2008