Michael Laird make waves at Waverley Gate
November 24 2008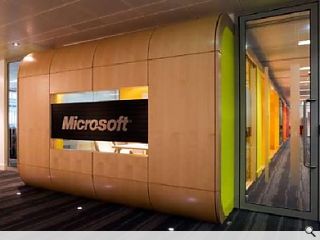 Michael Laird Architects have completed the interior for Microsoft Scotland's Customer Centre at the Waverley Gate Building, Waterloo Place, Edinburgh.
The designers set the challenge of responding to the design philosophy of Microsoft's ground breaking, global approach to their work environment – Workplace Advantage.
Michael Laird Architects have risen to this challenge and, working closely with Microsoft's own Vendors (providing I.T., audio visual, security and furniture procurement expertise) and the Consultant / Construction Team in Edinburgh, have created an interior which tailors the principles set down in 'Workplace Advantage' to the requirements of the Microsoft Scotland team and to the opportunities afforded by the Waverley Gate building.
Providing approximately 12,150 sq.ft of office accommodation located in the top two floors of the building. The accommodation also incorporates a stunning roof garden affording panoramic views from the Castle to Holyrood, Arthur's Seat, Calton Hill and the Firth of Forth. This comprises…
Level 5 : Presentation -
The Customer and Partner facing areas comprise the main presentation and boardroom suites, main reception and breakout area all with direct access to the roof garden. The main reception area is intentionally spacious and visually stimulating with the flowing forms of the reception desk and the glazed and floor-lit server room dominating the space.
Level 4 West : Product and Concept Development -
The product and concept development areas comprise a series of functional, yet flexible spaces where product concepts are developed and demonstrated to Microsoft's Customers and Partners. The Envisioning Centre is key to this area with products and concepts demonstrated on a series of mini stage sets with changeable, illuminated backdrops and furniture settings depicting a series of different environments.
Level 4 East : The Edinburgh Team -
A total of 56 open plan workstations (capable of accommodating a mobile workforce of approx 90 staff) are aligned along the window walls to the north and south. The timber-clad, 'wrap' form encloses a variety of collaboration spaces and functions - fully glazed meeting pods, open and informal meeting areas, in-trays, cloaks, admin hubs – and terminates at the east end in the café breakout area. Private 'phone booth' and high level bench touchdown areas are located at the east end of the space providing the team with further workplace options and, combined with the 'spine' and the open plan areas, complete a hierarchy of varied and stimulating workplace environments.
Photographs © Keith Hunter
Back to November 2008