Ryder architecture supports regeneration of South African village through community theatre
November 17 2008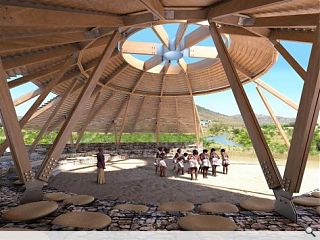 Ryder Architecture in Glasgow is helping to establish a theatre in a small village in the Eastern Cape of South Africa in a pilot regeneration project. It is hoped that performances by local people and visiting theatre companies will draw audiences and income from the wider area.
The Tyhume Theatre project will see a brand new theatre and education facility, designed by Ryder Architecture, built in grounds of Gqumahashe Primary School in the rural Tyhume Valley, Eastern Cape, one of the poorest provinces in South Africa.
Darren MacDonald, senior architect at
Ryder Architecture
's Glasgow office will be travelling to Tyhume in January 2009 with architects from Ryder's Newcastle office to help with construction.
Darren first became involved in the South African Tyhume project through Ryder Architecture's close community involvement with North East theatre group, Dodgy Clutch.
Whilst on a theatre tour in South Africa in 2005 Dodgy Clutch visited Tyhume's local school and discovered a rich revival of traditional dance and music within the area. The theatre group were so impressed with the school's creativity they returned to Tyhume in September 2007 with Ryder Architecture to explore the possibility of designing the children their very own stage and a place to celebrate the region's vibrant culture of dance, song and theatre.
Since their return, Ryder Architecture and Dodgy Clutch have teamed up with UK engineers Cundall to develop the project. Staff from all three companies will travel to South Africa to begin construction in January.
Darren and 12 other members of Ryder Architecture's Glasgow office recently tackled a jaw-dropping 70ft abseil off the church steeple at the Glasgow Climbing Centre to raise funding and awareness for the project. Over £1000 was raised on the evening which will go directly towards funding the construction of the Tyhume Theatre.
Darren said: "Building the Tyhume Theatre is a once in a lifetime opportunity to get involved in a project that could change the lives of a whole community.
"The theatre will provide a fantastic resource for young people in the area once completed and will allow them to develop their creativity and skills."
Construction will start in early 2009 and it is hoped that it will be completed by Easter. It will be carried out together with local people and local suppliers and will provide valuable skills training for all those involved.
Gareth Yule, associate at Ryder Architecture in Glasgow said: "This project presents a unique opportunity and challenge for Ryder and we are delighted to be involved.
"The funds raised by the abseil will go towards the cost of materials and local labour. If the project is successful in attracting visitors to Tyhume it could be replicated in other rural areas of the Eastern Cape."
Back to November 2008