Student flats further emerging Bonnington neighbourhood
January 10 2023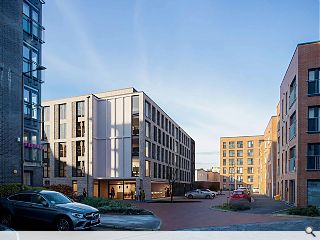 Glencairn Properties and ISA have changed tack towards the redevelopment of a former warehouse in Bonnington from mainstream apartments to 229 student beds.
A direct replacement for the prior consent the new approach builds out the brownfield site at 14 Ashley Place as part of an ongoing shift from industrial to residential use in the area.
As previously, the top floor is set back to improve privacy with contrasting lightweight cladding panels accentuating the shift. The use change also necessitated a change in access, now arranged via a reception and foyer. Space is also provided for a student lounge and other student amenities.
Visually the primary change is the replacement of a sweeping corner for an indented to signify the main entrance, with contrast precast detailing, a canopy and a vertical slot window further emphasising the importance of the Tinto Place corner.
In a design statement ISA wrote: "A new wing is formed, currently facing onto Elizafield Industrial Estate but following the line of the existing road dead-end. The wing is set back 18m from the projected face of the existing buildings. An existing utilities wayleave increases the likelihood of this being an access road in the future."
Part of a broader masterplan for the Elizafield Industrial Estate the scheme is built around a south-west facing courtyard and lawn.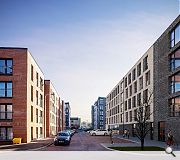 The 2011 census showed 370 students living within an 800m radius of the site, 8% of the resident population
Back to January 2023