Oliver Chapman Architects invited to second stage of international competition
November 13 2008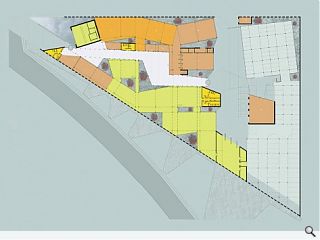 Oliver Chapman Architects
have successfully reached the second stage of an international
competition
designing the new headquarters' building for the Irish gas board's National Distribution Control Centre in Finglas, Dublin.
It is hoped that the new building will act as a catalyst for the area and bring considerable economic benefits along with an enhanced diversity of uses (live/work/play/relax) essential for any vibrant, sustainable community.
The site lies at the very edge of the city, just inside the M50 ring-road, and looks across to tilled fields. The proposal by Oliver Chapman Architects maintains the low-lying and open character of the surrounding landscape, and can be seen as a series of folded planes set within a triangular form. The proximity of the airport and the development of the motorway have resulted in the expansion of light industrial activities in the area. However, these uses are encroaching into what was historically agricultural land. Their approach is a response to the contemporary dilemma of sustaining economic growth without sacrificing the inherent qualities of the site.
Working closely with Arup Scotland + Hardies, the building is budgeted at €17,500,000. However, it is well integrated into the site topography and takes advantage of orientation and solar gain (where appropriate). It is predominantly single storey to reduce vertical circulation and costly upper floors but is peppered with 'fissures' (irregular shaped open courtyards) which bring daylight into every part of this deep plan matrix and allow individual control of the natural ventilation. The primary external envelop is constructed of variegated re-claimed brick with full height slot windows creating a comb-like façade. Where the external envelope folds back to create a landscaped court, a curtain wall glazing system wraps around these 'pocket parks' and gives glimpses into and through the lush landscape. Each courtyard has a distinct 'personality' relating to different aspects of the natural environment (turf, moss, ferns, etc.). The mass of the grass roof reduces aircraft noise pollution and provides an attractive 'horizontal elevation'.
Adopted is an 'in-side-out' approach which prioritizes the working environment, rather than strive for some grandiose architectural statement. The resultant building is expansive, open-plan and studded with a number of small oases of lush vegetation. Hopefully this will encourage staff to develop new flexile ways of working based on inter-change and connectivity. The building occupies almost the entire given site which allows the organisation of everyone on a shared plane, with occasional mezzanine gallery 'pop-ups' to provide some variety. This approach eschews the inevitable segregation and explicit hierarchical nature of stacked floor plates.
Some may view the scheme as a 'Don't Look at Me'-type building but it would be argued that this is a wholly appropriate response, given the nature of the client body, the site's particular location and the current financial climate. The practice aims to avoid any repetition of clashing egos which so often blighted major projects throughout the 1990s.
Back to November 2008