Gartnavel scoops design award
November 7 2008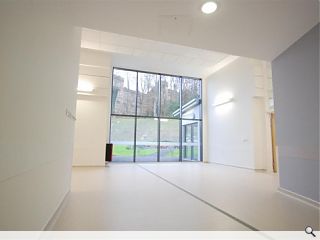 Gartnavel Royal Hospital has won the 2008 NHS Scotland Environment, Estates and Facilities Design Award.
The project was provided under the PFI system and Young and Gault were commissioned to produce the Public Sector Comparator, a designed and costed scheme against which bids from the Private Sector would be invited.
The hospital accommodates six adult, elderly and IPCU wards providing a total of 117 beds, all in single en-suite bedroom accommodation. Facilities also include a patient gym, a therapy kitchen, group and individual therapy spaces, an on-site advocacy service, a multi faith retreat and a family friendly room. The Hub Café, situated in the spacious reception area, is open to patients, visitors, members of staff and the general public.
A brief from clinicians identified four key criteria:
• All single bed accommodation with en-suites
• Hub and spoke arrangement of clinical space and wards
• Level access to gardens throughout
• Compliance with the 'New Model of Care'
The site at Gartnavel itself was not without challenges, with a fall of 4m on the East/ West axis, a 6m fall on the North/South axis and bounded by the Listed East House Building, McNiven Ward and the new Beatson. The solution adopted by Young and Gault was to design the hub building over two floors with the reception and staff facilities on the ground floor and all the clinical space on the first floor.
On one side of the hub would be an upper site level and on the other side a lower site level formed by excavating and filling out the falls across the site.
With the Public Sector Comparator completed interested parties were invited to submit their own schemes and the winning submission was from Robertson Capital Projects whose chose to adopt the PSC as their scheme, as this clearly reflected the desires of the clinicians.
Robertson Capital Projects with their architects Macmon developed the design through the construction period.
Back to November 2008