Objections delay the determination of Gorgie student housing bid
September 14 2022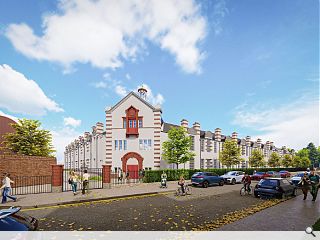 A bid to build 468 student bedrooms on the site of the former Tynecastle High School has been referred to a committee meeting by planners after 233 letters of objection were received and a local councillor requested referral.
The S1 Developments project has been recommended for approval and would involve the restoration of the B-listed school in Gorgie, designed by John Alexander Carfrae, alongside new build elements.
Seeking to mitigate the environmental impacts of the North British Distillery, Tynecastle Stadium and the Western Approach Road the scheme huddles around a sheltered courtyard and amenity space, with the original school hall serving as a gym, library and study space.
Dan Teague, director at S1 Developments, said: "Following our careful assessment of the Old Tynecastle High School site, we feel that student development is the most appropriate use given the severe constraints.
"The original school building has fallen into a sorry state since it ceased being a school over a decade ago. Whilst the redevelopment is challenging, we are hopeful that the proposed use brings with it an opportunity to save and renovate the original school building and continue its educational use, benefitting the local community."
Outlining their rationale behind their recommendation to grant consent the planners wrote: "In taking a balanced approach to the delivery of the strategy of the Development Plan the proposals will deliver purpose-built student accommodation on a site which has a number of constraints to the delivery of mainstream housing. The proposals provide an enhanced amenity for the students. The proposals will support the retention of a deteriorating heritage asset.
"The proposals do not comply with the provisions of the non-statutory guidance on student housing due to the failure to provide mainstream housing. However, on balance, the retention of a listed building on a constrained site through the proposed student scheme is considered to be a pragmatic approach."
The LOVE Gorgie Farm and People Know How charities are collaborating with the developer on the project, pledging to operate an on-site shared garden and community hub respectively.
The design team includes Michael Laird Architects with Harley Haddow, Hurd Rolland, Atelier Ten and Wardell Armstrong.
Determination now lies in the hands of Edinburgh's development management sub-committee.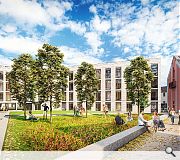 A sheltered courtyard seeks to mitigate air quality and noise issues
Back to September 2022