Glasgow Airport flying high
October 29 2008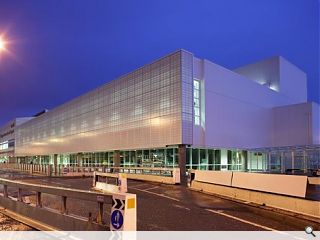 It's the size of a football pitch, has taken 18 months to build and cost airport operator BAA Glasgow £31 million - now Glasgow Airport's terminal extension has opened to passengers, offering state of the art security, more space to relax, and bigger and better shops.
The main phase of the project – a £12 million security search area – opened to passengers at 4.00 am earlier today.
The new search area forms the centrepiece of the 4000 square metre extension, which also includes a new UK arrivals hall, bars, restaurants, shops and additional seating capacity.
More improvements are planned in the next, and final, phase of the development, as work gets underway to upgrade and refurbish the existing terminal building to provide new fashion stores, catering facilities and extra seating.
This project is part of a planned £200 million ten year investment by BAA Glasgow which includes a new rail link and a second international pier.
The new terminal extension, designed by architects 3DReid and built by Balfour Beatty, features a revolutionary translucent cladding system known as Kalwall, a highly-insulating material that is amongst the most energy efficient in the world. Kalwall absorbs external daylight, allowing natural light to flood the terminal, reducing the need for artificial lighting and heating.
Nigel Ostime, Director of architects 3DReid said: "The primary aim of the design has been to improve the passenger experience. The use of natural daylight has been optimised to improve both the quality of the spaces and the energy efficiency of the building. Windows were not an option for the security search area and so the façade is clad in a translucent, insulated material, which floods the internal space with light, whilst preventing glare and solar gain."
Back to October 2008