Ralph Capper has a habit of appearing wherever the action is. He has been in the furniture business for three decades, has a 'good eye' for spotting talented designers and he understands the value of good design.
17 Jan 2005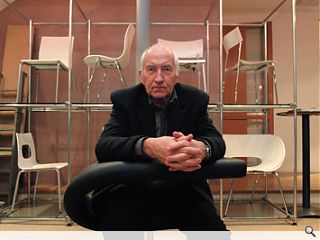 by Phil Griffin
In the mid 1960s Ralph Capper worked for Leslie and Rosamind Julius who ran the famous Hille contract furniture showrooms in Albermarle Street, Mayfair. Thus, for a while, Ralph got to share a front door with Brian Epstein, the troubled and trendy manager of the Beatles, who had an apartment above the shop. Ralph Capper Interiors, the company he set up in Bury with his wife Susan in 1975, has, since 1997, been in basement premises at 10A Little Peter Street Knott Mill in the middle of Manchester. Nowadays, Ralph shares his front door with Anthony H Wilson, doyen of Manchester Music, record label maverick, begetter of Factory Records and the Hacienda, father to Joy Division and New Order. Wilson's Ben Kelly-designed loft-apartment is in the same building. Ralph has the knack of being in the swim.
Ralph Capper was born in Salford in 1936. He worked his way through the furniture business as a commercial rep. "Hille was great. It was an exciting time in London, and the contract business boomed. The Juliuses opened showrooms in other cities, including one on Sackville Street in Manchester. I'm a northern boy and I'd come back to start my own business, first off north of the city in Bury. Then Hille's business changed, and they offered me the Sackville Street showroom, which we took over in July 1983". Ralph began to run Design Nights in his showroom. He invited international designers such as Carlo Forcollini to present their work, and the audiences were the new generation of architects, the likes of Roger Stephenson and George Mills, who were setting out on careers that would reshape the city.
"Terrance Conran made the difference for the public, of course. More and more people became conscious of such a thing as good design because of Habitat. But the difference really began when Leslie and Rosamind Julius came back from their trips to America in the late 1940s and '50s." Their eyes had been opened, not least by Charles and Ray Eames and Mies van der Rohe. They began to turn Hille into a design house for modern quantity production furniture. In 1949 Hille tied up with English designer Robin Day. He was to be its eminence grise through to the 1970's. Hille's hook up with Knoll in the USA involved them with Marcel Breuer, Eero Saarinen, Florence Knoll and Harry Bertoia – classic designers of the twentieth century, the same designers that Ralph Capper deals in today.
Ralph is not alone, he and Susan are joined in the business by their son Ben, daughter Justine and son-in-law Peter, a sort of dining set, or even Mafia. God knows what they sit on at home? "We have one or two nice pieces, older, worn in. We think our clients, mainly the architects we deal with, like to respond to a family business. The relationship is closer, familiar, more confident'. Very few, if any design-lead practices in Manchester and the North West, have not found their way to Capper's front door. Ralph continues to proselytise good design. Recently, he showcased the work of Manchester designers Ferrious, who have just delivered a range of their furniture for the new Home Office reception. "We like to deal in classics, and we like to spot them, Susan says I've got a good eye," says Ralph as he uses it to gaze around his Roger Stephenson designed showroom. "That Toledo chair (by Jorge Pensi 1986) ain't cheap (at about £390) but its cast aluminium, and its durable and cheap in the long run," he adds. Good design does cost money, but I for one, would cross any Spanish street to the caf... that has Toledos, rather than any other.
If you've dealt with Ralph Capper in the past, expect a phone call asking for money; not for the family coffers but, as you might expect, for an exhibition of twentieth century furniture. In February the exhibition 100 Years - 100 Chairs opens at CUBE (Centre for Understanding the Built Environment) in Manchester. It is the first major exhibition in this country from the Vitra Design Museum, Weil am Rhein. Ralph Capper is its principal sponsor. "For me, it's about giving something back. I'm ringing round our friends and clients, persuading them to sponsor a chair. It isn't cheap, and it isn't easy, but I'll get there." If you've given thanks to Ralph Capper in the past, prepare to give money now, or be prepared, at the loss of an ace consultant, not to take the call. I suspect, as always, he'll be gentle with you.
In 2000 a whole suite of black-clad beneficiaries of Ralph's good eyes and good advice gathered to celebrate their luck, and his 25 years in business. By then Manchester had been through two decades of considerable change, and Ralph Capper had played his part. Among the tributes that were written up that night, on a whiteboard set up for the purpose, are recurring themes; "good eye", "safe hands", "just ask Ralph". Few consultants to the famously hard-hearted sub-culture that is the architectural profession would ever elicit such generous testimonials, especially when no fee was involved. Ralph Capper's greatest gift as a supplier of classic furniture to design professionals, is that in the most testing area of design, that of being a stylish and honourable human being, he walks away with every prize. He is, to borrow a favourite appellation of a friend of mine, "a prince among men".
100 Years- 100 Chairs is at CUBE,
Manchester, 18 February- 5 May.
Photographs of Ralph Capper by Len Grant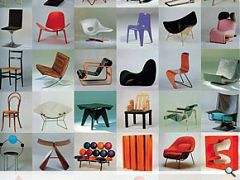 Back to January 2005