Welcome back to the Machine Age
|
Send to friend
23 Oct 2006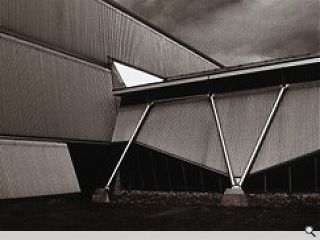 Cummins Factory, Shotts, Glasgow. Ahrends Burton Koralek 1983
The former Cummins diesel factory at Shotts is radical because its programme is so clearly articulated. The factory is stratified: staff enter on a mezzanine level from the car park at the back and make their way along concrete spines to the locker rooms and cafeteria. The shop floor sits completely separate on the storey below. The result is perhaps the first humanist factory, whose glazed skirt also breaks down the 'dumb box', allowing the engine builders to see out.
Ahrends Burton Koralek has been 'out of fashion' for 20 years, but they deserve to be better known for redefining what a container for mass production should look like. ABK's palette is the same as James Stirling's: patent glazing, coated steel and concrete rather than the neoprene and stainless High Tech of Rogers and Foster. The one thing they all have in common is a love of big ducts – at Shotts, there are huge canary-yellow extracts which swoop upwards through the spines.
Cummins were a good client, with an ambitious corporate culture: they chose Roche-Dinkeloo to design the Shotts plant's sister factory at Darlington. However, the American company left Scotland in 1996 and since then the range of metal-clad sheds has been split up into warehouse units. Despite that, Shotts remains a uniquely forward-thinking building – which even yet draws the camera crews, according to the factory's long-time security guard. Text by Mark Chalmers Photograph by Keith Hunter taken in 1987.
Back to October 2006