Relativity in art, space and time, as Manchester's B of the Bang gets off the starting blocks.
11 Feb 2005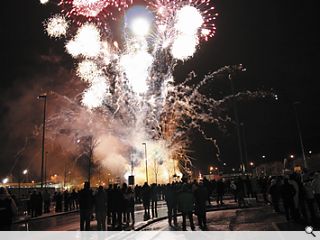 by Ian Banks
Cheshire-born artist Cornelia Parker has materialised a lot from the ether recently. She has had one of her sculptural installations shown virtually in the retrospectives of the "Still Life/Object/Real Life" suite at Tate Modern; got castaway treatment on "Desert Island Discs"; and featured again on Radio 4 as part of the celebrations on the 100th anniversary of Albert Einstein's great relativity breakthrough.
Parker's reconsideration of Einstein's discoveries, examined her own seminal work "Cold, Dark Matter: An Exploded View" (1991) – which consisted of a reconstructed view of an 'exploded' garden shed (filled with her collected ephemera). The shed was deliberately detonated by her at an army ordnance range, with the 'shrapnel' then painstakingly gathered up, logged and reinstated in a gallery – where this was represented in a suspended microsecond of explosive annihilation. She also described the magnified focus applied in another work, exploring Einstein's blackboard theorems, scribbled live in his famous lecture from his 'miracle year' of 1905. This photographic work consisted of huge blowups of microscopic images, resembling snow-capped peaks and scaly moonscapes, and revealed hidden depths to his passionate chalkings – illustrating a parallel universe in microcosm. There is no doubt 100 years on, that Einstein is still very much in the public consciousness. Indeed, on the radio programme, Oxford University's Museum of History of Science still boasted of having this original chalked-upon blackboard, and proudly listed it as being its most popular exhibit. Public awareness as to the theoretical existence of variable space-time is now rooted in our conscious, as are vague concepts of huge scale spectrums ranging from sub-atomic particles through to expanding universes.
Unlike Parker's gallery-based work, the micro and macro potential for both space and time-based art experienced in the public realm remains under explored, and public art is often visualised as being only permanent work that is referenced to a human scale and a specific time and physical locality. In contrast, the exploratory process and practice of time-based and live art forms demand different approaches to this. Such temporal art embraces practice that can be experimental, is often high risk (possibly controversial) and addresses the specifics of space, place, time and audience. The work is usually more process than product driven, and is firmly rooted in ideas of presence. Innovative organisations like Hull Time Based Arts and the Live Art Development Agency forever push at these expanding boundaries, although a large percentage of their work (and others like them) is unfortunately still gallery or festival based. The excellent live art of x.trax, Manchester's biennial street art festival is a case in point. Produced in conjunction with Manchester International Arts, the programme has now converted to a biennial format, from June 2005, due to a lack of strategic funding priority.
Time is a factor, brokered into many art-in-regeneration schemes, where 20-year plans are the norm, but perversely, instantaneous quick-wins through permanent artistic interventions are often demanded at the outset. Lynford Christie, famously talked of his 100m gold medal win in the 1992 Barcelona Olympic final, being crafted in his instantaneous reaction to the starters pistol with an explosion from the blocks – what he called having to move on the "B of the bang". It is ironic that such a momentary reaction to grasp victory or taste defeat follows a lifetime of dedication and discipline. The designer Thomas Heatherwick's analogy to that same explosive spark of ambition was glimpsed at the recent public launch of his extraordinary sculpture of the same name, sited at the City of Manchester Stadium. Ironic also here is the fact that while originally intended to be used as a visual metaphor to mark the launch of Manchester's impressive Commonwealth Games in the summer of 2002, it should end up taking a further two-and-a-half years to complete, because of technical complexities and delays in securing funding. It is now marketed as an iconic retrospective, marking completion of phase one on the long journey to regenerate East Manchester. The project eventually climaxed on a rainy night in January with a pyrotechnical show created by live arts group Walk the Plank – which was also, incidentally, responsible for delivering the fabulous arts spectacle at the closing ceremony of the games.
While work such as Parker's "Cold, Dark Matter" and Heatherwick's "B of the Bang" freeze an explosive catalytic moment in time and place, around them, time of course moves on relentlessly. Physical environments change and inhabiting communities react to it, and it is precisely this very process that needs further creative exploration and adjustment. While second-rate art is often used as a means of paying lip service to community liaison, what is really needed is a bold vision to commit to a fuller programme of engaging communities through visionary artistic residencies and temporary installations. These could act as 'action research' to help evolve innovative artistic approaches and a community mindset, which in turn can help inform and influence the physical regeneration happening around them. Lets call it art with the big-bang effect.
Ian Banks writes on behalf of the Public Art & Architecture unit at Arts Council England NW (www.artscouncil.org.uk and www.publicartnorthwest.org.uk). The unit is co-funded by stakeholder RIBA NW for 2004/05. Ian Banks is now part-time Consultant Director of Public Realm at Public Arts (www.public-arts.co.uk), the Yorkshire-based public art and architecture agency, and runs his own small collaborative practice Atoll (www.atoll-uk.com).
1. www.tate.org.uk/colddarkmatter/default.htm. 2. www.bbc.co.uk/radio4/science/relativelyeinstein.shtml. 3. www.mhs.ox.ac.uk. 4. www.timebase.org. 5. www.thisisliveart.co.uk.
6. www.xtrax.org.uk. 7. www.streetsahead.org.uk. 8. www.walktheplank.co.uk
Back to February 2005