Extra Care Housing: Do You Care
12 Jul 2022
A fundamental human need to retain independence in later life is fueling a housing and care revolution but an emerging funding gap threatens an under supply of affordable stock in Scotland. Babak Sasan, director at BMJ Architects, addresses an issue that will affect us all sooner or later.
The subject of care for our elderly is something close to my heart, with my father hitting 90 in a few weeks' time. Like many others who have lost their friends and companions over the years and find themselves in a decreasing and lonelier social group he finds the ability to keep an active life more and more challenging. Being a proud man and in reasonably good health who values his independence, he is now finding some everyday tasks more challenging without assistance. With around one fifth of the UK population being over 65 and increasing, the challenge of care and housing our older generation is still be addressed properly.
This is even more apparent when it comes to those who are not able to stay at their homes or afford the residential care homes provided for the better off. This is where extra care homes can play a big part in providing affordable homes for those who can't. Extra care housing, and not to be confused with a residential care home, is housing with care primarily for older people where occupants have specific tenure rights to occupy self-contained dwellings and where they have agreements that cover the provision of care, support, domestic, social, community or other services. Unlike people living in residential care homes, extra care residents are not obliged as a rule to obtain their care services from a specific provider.
However, the truly affordable, accessible, and sustainable homes that enables residents to live their lives alongside each other are still short in supply. This is an emerging market that more and more private developers are entering. It is an attractive pipeline of opportunity that can deliver affordable homes, leveraging the expertise of local authorities where there is a significant undersupply of affordable retirement living that will integrate within its local area. This model will also help to reduce the cost burden on local authorities to provide care services to their residents by alleviating the fiscal pressures at local level and release funding for other initiatives. As a for-profit Registered Provider of Affordable Housing, the developers can extend the range of housing options available to older and vulnerable people and encourage more cost-effective models of care to be delivered within sustainable, future proofed homes.
The sites when carefully selected, can contribute to the regeneration of town centres and residential areas, providing opportunities for local businesses and an enhanced amenity offering to residents as well as providing a direct solution to the loneliness epidemic amongst the elderly population. As a main feature, the integration with the local community is built into the ethos of extra care. It is also believed that by placing these schemes, near schools, churches and other local amenities, they can encourage use of common areas like the Bistro and multifunction rooms within these schemes, the residents and the local community can benefit from the multi-generational engagement that can provide the social interaction gap some older generation can find themselves in and perhaps assist with slowing down the rate of some early dementia. At BMJ, we are currently involved in several such developments for clients in UK.
All of which are currently underway to provide between 65-75 individual apartments per scheme in various sites across England. Unfortunately, so far, these affordable homes have only been viable south of the border due to the generous funding provided by Housing England. In Scotland, we may have some supply of sheltered housing or assisted living through housing association and others, but the under supply of the truly affordable homes cannot be addressed if similar funding to those in England is not provided up here.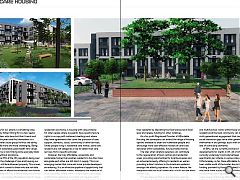 Back to July 2022