Future Paisley: Streetwise
22 Apr 2022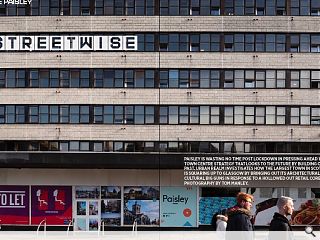 Paisley is wasting no time post lockdown in pressing ahead with a town centre strategy that looks to the future by building on the past. Urban realm investigates how the largest town in Scotland is squaring up to Glasgow by bringing out its architectural and cultural big guns in response to a hollowed out retail core. Photography by Tom Manley.
The much-heralded migration from office to country is opening up new opportunities for small towns to claw back a living from their larger neighbours but what more should our secondary urban centres do to stave off online retail, a brain drain to the cities and shifting work patterns? Against an inauspicious international backdrop, Paisley is betting on a better tomorrow with Future Paisley, a broad programme of events, activities and investment designed to signal to locals and the wider world that a period of enforced hibernation is now at an end.
The Renfrewshire town is one of the first out of the starting gates in responding to the new world order, building on pre-pandemic initiatives such as Paisley 2030 to show that it is back in business as a cultural heavyweight that punches above its population weight. Current initiatives trace their origins back to The Untold Story, a 2014 bid by Renfrewshire Council to position the town as a bastion of heritage and culture and which acquired real momentum after being shortlisted for UK City of Culture in 2021 and with its green lighting plans for a starchitect museum makeover. Set against the backdrop of a global pandemic this is no mean feat, but external forces have undoubtedly taken some of the wind out of these sails, prompting the council to set them billowing again as Alasdair Morrison, Head of Economy and Development at Renfrewshire Council told Urban Realm: "In terms of investment, the world has stood still over the past two years. Lots of things have been delayed simply because of the uncertainty."
That uncertainty has already had real-world impacts leaving Paisley, in common with all towns, to come to terms with the fact that retail as we know it is a spent force with many more household names set to go the way of Woolworths. A case in point is M&S which shuttered its town centre outlet last year, ending 90 years of operation on the High Street in favour of an edge of town location on Renfrew Road
better suited to big-box groceries. The upshot of these trends is that retail will remain a problem, not a solution, in driving footfall and tenancy. Morrison said: "Every Scottish town is going to have to change because they are not going to go back to retail." What retail remains is likely to be very different in form, a point illustrated by a drop-in Lloyds Pharmacy in the old Burtons Building that will incorporate NHS services with flats above. The Paisley Centre, a ghost mall in the making, requires a more substantial intervention. It has borne the brunt of store closures in recent years leaving it a hollowed-out husk sucking life from surrounding streets. Wincing at how the mall came to be during a mania for shopping centres in the 1990s Morrison recalled: "Someone decided they would knock down everything behind the High Street and build a huge shopping mall, the Paisley Centre. It was 300,000sq/ft but has hit really hard times with lots of empty units." In a sign of the times, the new owners plan to repurpose the mall, taking it down to the concrete plinth and incorporating the adjacent Marks & Spencer store to provide a mix of smaller-scale retail, offices and leisure across the ground floor and basement with flats above. Morrison observed: "In my view, almost every shopping centre of this scale in Scotland will need to repurpose. There is no demand for this level of retail floor space anymore."
Large-scale interventions are complemented by smaller-scale work to restore historic shopfronts to their original appearance, although efforts in this direction have thus far been largely piecemeal and subject to grant funding and the willingness of owners to engage. "We play a ringmaster role in Paisley town centre because if we didn't nobody else would," Morrison explains. "If we didn't, we'd be in the situation we were in 15 years ago when we were at a low ebb. We had one quality restaurant in the whole town centre, now we have at least four or five with more to come."
If retail therapy is out of the question what are the options for renewal? For Paisley, a town dripping with an embarrassment of architectural and cultural riches, the answer is obvious, a return to the institutions and grandeur which live on past its industrial heyday. Home to David Tennant, Paolo Nutini and Gerard Butler, Paisley also hosts the UK's largest independent youth theatre with alumni such as James McAvoy and Richard Madden, helping to put the town on the map. A key part of Future Paisley is PACE Youth Theatre which is teaming up with Pink Architects to refurbish the former New Templar Hall on Sneddon Street to provide a theatre, workshop and cafe. Having embraced pedestrianisation in the mid-nineties Morrison concedes that you can't make an omelette without cracking a few eggs, stating: "It wasn't universally popular and probably still isn't but in reality, the alternative of reopening to traffic would be horrendous." Gesturing to One High Street, a handsome Gothic confection typical of the Victorian munificence of Paisley's heyday, Morrison says: "It would bring a tear to a glass eye. The owner hasn't spent a penny in decades and it's falling apart. We've got the power to do a compulsory purchase order but we just don't have the money. That building will require a seven-figure sum to renovate. We can look at grant funding but it's difficult for us to justify that politically when an owner has been negligent. The Scottish Government are bringing through compulsory sales orders, you could force a sale but then they might sell it to Joe Bloggs who does nothing with it either. We're aiming for investment to go into the building." One of the principal spurs for investment in recent years has been the insatiable clamour for town centre living which has spurred a variety of private-sector developers to dip their toes in the local market, notably 34 apartments by Nixon Blue and Vellow Wood on Bridge Street opposite the Abbey. Further along at number 9, is an inauspicious doorway set alongside the unpromising fascia of Bargain Buys. Belying its low-key presence you will find here a subterranean Aladdin's cave of treasures in overspill storage from Renfrewshire's Museum collections Colin Orr, Senior Communications Officer at Renfrewshire Council, said: "We reckon it's the only museum store on a high street in the UK. Glasgow has one (the Museums Resource Centre) but it's on an industrial estate in Nitshill on the edge of town. What we did is to use a massive basement underneath the town centre as our storage facility. People can book a tour to see the collections." The one development the entire town is pinning its hopes on is the Museum, an ambitious bid to double the number of objects on display while opening up step-free access to the Coats Observatory. Entering the scarlet entrance hall the expanded gallery opens onto an outdoor garden, framed on its opposite side by the burnt-out husk of the former Territorial Army building. Close to being salvaged as student flats the project is on indefinite hiatus following the pandemic with the University of the West of Scotland no longer willing to commit to the project, preventing Asian investors from borrowing the required capital to finish the job. It is flanked in turn by the Coats Church, now a wedding and entertainment venue, with 40+ weddings planned for this year as normal life resumes.
The educational and cultural quarter with the museum, university and Coats Church at one end and the Abbey and town hall at the other stand as 'dumbbells' anchoring the town centre in place, with the hope that developing both ends will organically lead to the repopulation of the space between. "The town hall will bring people for one-off events and concerts; the museum will bring people from all over the country all year round." A fitting tribute to the Coats family, who at the turn of the century presided over the world's third-largest company, with only US Steel and Standard Oil ranking higher in terms of market capitalisation. Turning back to the present Orr points to Barga, a hip bar and cafe specialising in wood-fired pizza and street food named after the town in Italy where a lot of Italian emigrants, including the Nutini family, originated.
"It's the type of place we didn't have 10 years ago. Walk-in there and it feels like Finnieston," he says. Famed for its thread and shawls Paisley is not known as a riverside town with the White Cart Water largely shunned and culverted - until now. At the town hall, the riverfront was deemed so unimportant that it was relegated to a chair store, something that will finally be put right by turning it into a bar as part of a broader remodelling by Holmes Miller that includes expanding the main auditorium into a 1,200-capacity venue. Away from the town centre work is proceeding on an active travel route to Renfrew along a decommissioned railway line to the docks via the newly opened Black Cart Bridge. Morrison said: "When it's all finished, you'll be able to cycle from Pollok Park to Johnston and down to Ayrshire. You've never been able to walk or cycle to Renfrew off-road since the settlement was built."
A revolution on the High Street is underway as town centres shift from retail, vehicles and offices to leisure, health and wellbeing as part of a more diversified economy, less beholden to the ups and downs of any one sector. In the vanguard of these efforts, Paisley is prioritising culture over consumption in the belief that this represents a more sustainable proposition in a world where it is as easy to shop on the other side of the globe as at the local corner shop.
Back to April 2022