Retrofit: Re-energised
15 Apr 2022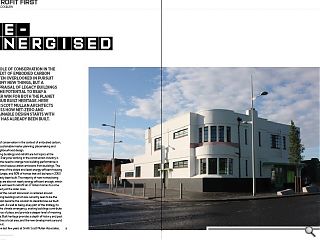 The role of conservation in the context of embodied carbon is often overlooked in pursuit of shiny new things, but a reappraisal of legacy buildings has the potential to reap a bigger win for both the planet and our built heritage. Here Claire Cockburn, RIBA conservation registrant & passive house designer at Smith Scott Mullan Architects discuss how net-zero and sustainable design starts with what has already been built.
The role of conservation in the context of embodied carbon, net-zero, sustainable master planning, placemaking and good neighbourhood design. Existing buildings and retrofit are hot topics at the moment. Everyone working in the construction industry is aware of the need to change how building performance is regulated and reduce carbon emissions from buildings. The UK has some of the oldest and least energy-efficient housing stock in Europe, and 80% of homes that will be here in 2050 have already been built.
The majority of new homes being built today are also not nearly energy efficient enough, which means we will need to retrofit all 27 million homes to some degree, not just the older ones. A lot of the current discussion is centered around how existing buildings which are currently seen to be the problem can become the solution to decarbonise our built environment. As well as being a key part of the strategy to address the climate emergency, existing buildings contribute to our sense of place, and provide a deeper level of meaning to an area. Built heritage provides a depth of history and past that enriches a local area, and the new developments around and within it.
For the last few years at Smith Scott Mullan Associates, we have been increasing our understanding of how to build to maximise energy efficiency, with a number of qualified Passive House Designers now within our team. Whilst it is very complex and technical, Passive House provides a clear path to achieve energy efficient net zero homes. Retrofitting existing buildings to achieve similar results is a great deal more challenging and complex; and urgent action is required to meet current targets. We should effectively be retrofitting one home every 35 seconds between 2020 and 2050 to stay on track.
It is a huge challenge but one that is definitely worthwhile, because of the incredible benefits that existing buildings can bring, that reach far beyond the operational energy aspects. In the UK, buildings account for 49% of greenhouse gas emissions, and of the annual carbon emissions associated with buildings about 80% is associated with ongoing operational carbon emissions relating to the existing building stock. The remaining 20% is related to the embodied impact of new construction. (LETI Climate Emergency Guide) As buildings become more energy efficient, the operational carbon of new buildings will significantly reduce, and the embodied carbon will represent a higher proportion of whole life carbon than it used to. Embodied carbon is therefore becoming significant and needs to be addressed. The simplest way to reduce the embodied carbon numbers is to refurb and re-use, and not build new.
We need to build less. Our existing building stock already contain huge amounts of embodied carbon – discarding this to replace it with new housing would be, when considering the whole life cycle carbon of a building – a huge waste. At the start of all projects the question should be asked; is a new building necessary to meet the brief, has retrofit and re-use of the existing buildings been considered? We should be upgrading existing buildings to extend their use as a more efficient alternative to demolition and new build whenever this is a viable option.
Principle 5 within Designing for a Changing Climate: Carbon Conscious Places advocates retrofitting existing structures first, giving consideration to embodied carbon in place. Creating a place that reuses and considers the life cost of a building. This is even more important for buildings of social significance; it takes years or decades for a building to become emotionally relevant to a local community, and these buildings need to be valued, maintained and enhanced. Our recent project at Penicuik Town Hall is an example of this approach; restoration and enhancement works were carried out to repair the historic building fabric, combined with sustainability works to improve its energy performance.
The Town Hall is a prominent Category C Listed building positioned at the historic core of the town and is not only important due to its architectural and townscape quality but also due to its civic importance and providing accommodation to benefit the local community in terms of education, health and well-being. The project involved conservation works and repairs to the external fabric as part of the Penicuik Heritage Regeneration project, a Townscape Heritage and Conservation Area Regeneration Scheme. Conservation works included the sympathetic restoration of the building's stonework, roofs and windows. Sustainability works addressed the energy performance of the building, replacing gas boilers that were coming to the end of their useful life with a new Combined Heat and Power engine to reduce carbon usage.
Photovoltaics were also installed on concealed roof pitches. Conservation and refurbishment of existing buildings can retain the operational carbon in the repairs, extending the life of the building and avoiding significant embodied carbon from building new. Use of locally sourced materials and re-use of existing elements where possible can also help to keep embodied carbon low. Penicuik Town Hall is socially an important building with a unique street presence, and it was incredibly rewarding to have been a part of this community-based project to extend the life of this architecturally and socially important local landmark, Existing buildings already have a place, identity and history. Using these unique buildings as a starting point to inspire change and development can create successful places and housing with a clear and enriched identity.
Designing for a Changing Climate: Carbon Conscious Places (Architecture & Design Scotland) encourages a 'place-led approach' understanding and working with the existing fabric, with an existing building at the core to inspire change and placemaking. At one of our projects in Craigmillar, the existing Category B Listed Art Deco former roadhouse, The White House, was restored and forms a key element of the wider Craigmillar community regeneration currently underway. The refurbishment took care to retain links to the past, and local identity and memories are celebrated within it. On completion, a public exhibition opened in the building to tell the story of the local community, regeneration of the building and Craigmillar. The building is now successfully permanently used by a community café, managed by the Community Alliance Trust, ensuring the building is in sustainable use within the community.
Despite significant changes in the area, the White House continues to be treasured within the heart of the neighbourhood, binding the past, present and future of the place. Further east, our project at Buccleuch Street in Dalkeith reuses an existing building as the catalyst for new development on the site. The existing building addressing the street will undergo a deep energy efficiency retrofit, combined with a modern extension to the rear. The original retail units will be retained, with new shopfronts and glazing fitted to restore them to their former glory. To the rear of the site, a new building is currently in construction, which will provide six flats to Passive House standard for affordable housing. Common materials are proposed that will link the new and old together, to ensure the new development is woven into the fabric of the area.
The old building has anchored the new build to achieve a deeper sense of place, identity and belonging. This project will hopefully encourage further town centre regeneration, increasing the density of the area whilst maintaining the town character. An increase in density has a sustainable effect as it reduces the impact on green belt, making better use of already existing infrastructure as opposed to generating the need for new, which consume vast amounts of construction based carbon. It also reduces carbon related to travel, by creating small, local communities, with short, usually walkable, distances between living, working and shopping. There are historic buildings throughout towns and city centres that are vacant and abandoned. High streets with empty units and boarded up windows can very quickly and effectively damage the quality of the area and lead to a sharp decline in condition of a building's fabric. However, renewed enthusiasm and investment brings opportunities to re-introduce useable space, increase density, safeguard built heritage and revitalise the neighbourhood.
These concentrated local communities in turn boost the local economy. Our Edinburgh city centre project at Springwell House for AMA (New Town) Ltd was a delicate balance of conservation, refurbishment and extension of the Category C Listed existing building alongside new-build townhouses and a lodge house, to form high-end properties for private sale. Maintaining and retrofitting the existing building with significant fabric upgrades, photovoltaic panels and centralised ventilation systems has reduced the carbon footprint of both the development and the building in use, when comparing to the baseline approaches. This project has played an important role in the regeneration of the local area; providing high-quality city living with easy access to local amenities and public transport. Again, increasing the density of the area with a historic building at the centre, creating a long term sustainable community in the heart of West Edinburgh.
Existing buildings can inspire change, enrich placemaking and are a key part of the strategy to address the climate emergency. A shift in mindset and culture has already begun but needs to be built on further; towards a focus on regenerative, circular, low carbon approaches that identify existing buildings as a benefit, both in terms of numbers (whole use carbon not just operational carbon) and in terms of sense of heritage, character, and spirit that add another level of quality to a place.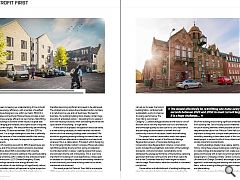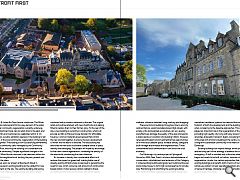 Back to April 2022