SEDA: Emission Statement
21 Jan 2022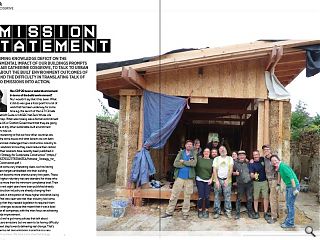 An alarming knowledge deficit on the environmental impact of our buildings prompts SEDA chair Catherine Cosgrove, to talk to Urban Realm about the built environment outcomes of COP26 and the difficulty in translating talk of net zero emissions into action.
Has COP 26 been a watershed moment in terms of the build environment?
No, I wouldn't say that it has been. What it did do was give a focal point for a lot of work that has been underway for some time e.g. the launch of the LETI Climate Emergency Retrofit Guide or UKGBC Net Zero Whole Life Carbon Roadmap. What was missing was a formal commitment from either the UK or Scottish Government that they are going to adopt these or any other sustainable built environment standards from now on. I found it interesting to find out how other countries are approaching the same issues and what lessons we can learn from them. Denmark challenged their construction industry to come up with solutions to how they could reduce their carbon footprint and their solutions have recently been published in their "National Strategy for Sustainable Construction".
They've got some very interesting ideas, such as having baseline net zero targets embedded into their building standards which become more onerous every two years. These also include a higher voluntary net zero standard for those who want to achieve more than the minimum compliance level. Their targets for the next eight years have been published already and their construction industry are already changing their working methods in anticipation of these higher standards being introduced. What was clear was that their industry had come together to say that they needed legislation to required them to make these changes because that meant that it was a level playing field for all companies, with the main focus on achieving an industry wide improvement. In Scotland we've got many policies that talk about achieving net zero emissions but we seem to be having difficulty in taking the next step towards delivering real change. That's because delivering net zero emissions in practice is a very difficult thing to achieve. We have some idea that energy efficiency of our buildings would help but we only make very small changes to the energy requirements in the building standards.
What we urgently need to achieve are Passivhaus levels of energy use in all new buildings and EnerPhit levels for existing buildings. By not applying these energy standards now all we will achieve is more buildings that will have to be retrofitted in subsequent years. How to achieve Passivhaus energy standards in new buildings is a known process and can be replicated across the construction industry fairly quickly with appropriate training and on-site testing. What's much harder to do is achieve a lower energy performance of existing buildings. It's very easy to refurbish buildings with good intentions but end up with unintended consequences of interstitial condensation, poor ventilation and inefficient heating. All refurbishments need to start by having a good understanding of the existing building's construction and condition, then knowing what suitable improvements could be made. None of this is covered in our current building standards and there's likely to be no oversight of the quality of workmanship being carried out.
Going back to COP 26, I found it interesting to hear how Paris were approaching a similar situation. Less than 1% of their building stock every year is from new constructions. To meet their net zero emissions targets they have decided to focus on the refurbishment of their existing buildings. They have many types of incentives to persuade private building owners to carry out refurbishment work to the required standard. Other policies include investing in deep retrofits in social housing building fabric improvements and training local people to carry out this work, ensuring long term employment as well as improving their buildings. At present the worrying thing is how little we actually know about the environmental impact of our buildings, in terms of how the materials have been produced, how they have travelled to our building sites and how they impact upon the people using the completed buildings. We don't have enough information to be able to make good decisions that minimise the environmental impact of our buildings. With global supply chains having been disrupted by the Covid pandemic and the UK also being affected by Brexit, it is starting to hit home just how many of our construction materials and equipment comes from abroad.
Once any sort of embodied carbon assessment is built into project requirements then it very quickly becomes obvious how quickly we can reduce our environmental impact by making better specification choices. The construction industry is starting to recognise that carrying out embodied carbon assessments, life cycle analysis and whole life costing is something that we will have to start doing on all projects in the very near future. This will transform construction in ways that we can't even begin to imagine. To have any chance of meeting our net zero emissions targets this has to become industry standard as quickly as possible. SEDA were set up thirty years ago to spread knowledge and our experiences about sustainable design over a wide range of subjects. We've published design guides on many subjects that, at the time, were seen as niche interests but are now becoming standard practice e.g. design for de-construction, design for dis-assembly.
Our more recent guides, on sustainable renovation and on indoor air quality of airtight homes, are subjects that we think more people need to know about and will be useful primers on two very complicated subjects. Within this last year we've started another very existing initiative, a series of Land Conversations. This grew out from an idea that one of our members had to ask a range of land and ecology experts how they could work together to achieve more ecological benefit from land use. When we started asking people to become involved this grew into a series of six online events focusing on different aspects of land use. The presentations and discussions produced many ideas about how many of the current initiatives could be drawn together and common themes that would help co-ordinate between Scottish Government policy and local action. The report that we published summarising the discussions, "A New Vision for Land Use in Scotland", has been very well received and there seems to be a willingness from Scottish Government to continue the discussions. We've set up a new SEDA Land group to keep these going and to identify where we might be able to keep up the momentum on specific projects. There were a lot of similar discussions being held at COP 26 and we're interested to find out if that provides us with more opportunities beyond Scotland. Our SEDA Build group was established many years ago with the intention that
we could help community groups to build sustainably. It has struggled in recent years due to the lack of volunteers to start new projects. The Bridgend Bothy, located south of Edinburgh, is the current SEDA Build project with Bridgend Inspiring Growth (BIG) and should be complete on site by now. We helped this group with the design and construction of their self-build community classroom. Progress was severely affected by the Covid lockdown and it has yet to open to the public. Moving forward we will need to re-think how this group works and whether it should be re-focused on other building initiatives.
What are the challenges of running events 
through lockdown?
The Covid lockdown was a significant challenge for SEDA because our in-person events were the lifeblood of our organisation. They offer a chance for people to meet up and ask questions on a wide range of subjects and this built up a series of local networks of sustainability minded people with whom anyone could call upon when they needed help. This social side of SEDA was thriving and it was reflected in growing audiences at the events we held in early 2020.
All that stopped with the Covid lockdown. To keep events running we switched to holding them online with Zoom. We had to go through a very steep learning curve on this as we'd never held any online events before. We have managed, although maybe not as smoothly as we might have hoped, and have been able to present many more events during the year than we would have done if these had been in-person events. One added bonus to moving to online events is that it has addresses a long-standing concern that had been raised regularly. Our membership is drawn from all over Scotland and no matter where we held events, many of the members would not have time to travel to them. By holding them online and posting recordings of the events on our website, many more of our members have been able to attend. During COP 26 we held our first blended online / in person events along with ACAN. It gave us the chance to try out this new format, with the Q&A session taking questions from both those present in the room and online. We've still got a lot to learn about this format but it does look likely that this will be how we will hold most of our future events.
Looking back on how we've managed to keep the events running through the lockdown period, it has probably accelerated something that we would have had to have done at some point. As many other organisations have been learning to do the same thing we've been able to pick up ideas and tips from them that have helped us find what works for us. At the moment we are being limited by our own experience of using this technology but we can see more opportunities we can benefit from using digital and social media.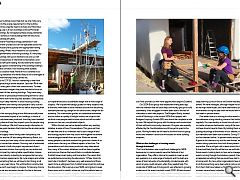 Back to January 2022