COP26 House
18 Jan 2022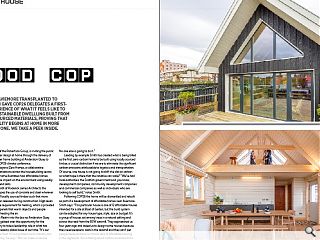 A slice of Aviemore transplanted to Anderston gave Cop26 delegates a first-hand experience of what it feels like to live in a sustainable dwellling built from locally sourced materials, proving that sustainability begins at home in more ways than one. We take a peek inside.
Urban Union, part of the Robertson Group, is inviting the public to experience circular design at home through the delivery of a zero-carbon timber frame building at Anderston Quay to coincide with the COP26 climate conference. Developed by Beyond Zero Homes, a collaborative grouping of 20 organisations across the housebuilding sector, the demonstration home illustrates how affordable homes can be built with little impact on the environment using readily available materials and skills. Led by Peter Smith of Roderick James Architects the COP26 House foregoes the use of concrete and steel wherever possible in favour of locally sourced timber such that more carbon is stored than released during construction.
High levels of insulation limit the requirement for heating, which is provided by electric infrared panels that warm objects and people directly rather than heating the air. Ushering Urban Realm into the des res Anderston Quay address Smith evangelised over the opportunity for the construction industry to take a leadership role in what has become the most pressing global issue of our time. "It's our responsibility. It's our fault. It's our problem as an industry but it's also an opportunity," he says. "We can make a massive difference by coming up with the right solutions, it's up to us. No one else is going to do it."
Leading by example Smith has created what is being billed as the first zero-carbon home to be built using locally sourced timber, a crucial distinction if we are to eliminate the significant carbon emissions attributable to logistics and transportation. Of course, one house is not going to shift the dial on carbon so what hope is there that the initiative can scale? "We've had local authorities, the Scottish government and, you know, development companies, community development companies and commercial companies as well as individuals who are looking to self build," notes Smith. Following COP26 the home will be dismantled and rebuilt as part of a development of affordable homes near Aviemore.
Smith says: "This particular house is one of 12 affordable houses intended for a site at Boat of Garten, but the build system can be adapted for any house type, style, size or budget. It's a group of houses set among trees in a natural setting and across the road from the BSW sawmill. They approached us four years ago and asked us to design some houses because they need people to work in the sawmill and they can't get people because there's a chronic lack of affordable housing in the Highlands. We're talking about carbon emissions from transportation and you don't get much more local than right next to the factory and the trees come from the local area as well. The unique selling point for this house is that it is made almost exclusively of homegrown Scottish timber, C16 Sitka Spruce." If this is to take off on a mass scale and get volume coming through, do we have the manufacturing capacity to deliver? Peter: "We had Scottish Forestry over and I asked them exactly that question.
If the whole of Scotland stopped building tomorrow and started building these types of houses there would be supply chain issues. But we can have a transition, start with a few hundred and then build up to a few thousand homes - that's easily doable with the timber that we have. At the moment, we're not using timber as well as we might. So a lot is getting turned into pallets or fences, lower value, low-grade products when it could be turned into structural timber for houses. "We've designed the house for deconstruction so when it comes to the end of its usable life, we don't tear it apart and throw it into a landfill. It's been designed to be unscrewed and taken apart into individual elements that can be reused or turned into palettes or wood fibre insulation for the next house. We can keep that carbon locked in and keep it out of the atmosphere." We've seen more people embracing kit houses, what makes this better?
"The fact that we're using homegrown timber is important. But also, a lot of kit houses are using petrochemical-based, expanded foam boards or mineral wools which are not as healthy or as good for the environment, not to mention the off-gassing from these petrochemical-based products and other man-made materials. There are health benefits to using natural materials that go beyond the zero-carbon aspect. Living in a timber building is good for you, it's proven. We have clinical evidence from 10 to 20 years of research that shows that people who live in timber houses are healthier." With the rise of asthma and allergies attributed to people living in sterile environments what is the health case to be made for working with nature rather than against it. Is the era of humans bending nature to our will now at an end as we return to more humble forms of building?
Smith said: "Everybody who comes into this house stops for a second, looks up and breathes out. Everyone has that same reaction. It's brilliant to see. There's a change in atmosphere and ambience and it does hit you." Does Scotland have a leadership role to play in bringing about this transition? "Certainly, the proportion of timber buildings in Scotland is around 80% and in the rest of the UK, the average is something like 25%. So, we're well ahead of the rest of the UK but other countries in Europe are ahead of us."
Does the supply crunch that is impacting logistics show that this isn't just a sustainability issue or a health issue but is an economic issue as well? "That's why we're called Beyond Zero Homes. It's not just about being zero carbon, there's the security of supply chains. The fact we've got BSW on board gives us that level of security in supply and transport." What are the main stumbling blocks to greater adoption, is there cultural friction in a public that has become wedded to bricks and mortar? "There's a little bit of everything. It's about changing mindsets and letting people see what zero carbon looks like. Once people see what using natural materials looks and feels like they realise it's not something alternative, out there or left field. This is mainstream."
What makes the COP26 House stand apart is its juxtaposition with the heavy petrol and diesel laden air spilling off the Kingston Bridge arcing overhead. How do city centre brownfield sites fit into this housing revolution? Is it solely suburban and rural environments that will benefit? What is the case for homes like this across inner-city areas? "The house design comes from a development in Aviemore and so it's got that rural rustic look to it", explains Smith. "But the build system can lend itself to any type of architecture. It's a simple grid design that two people can build. It was two women who approached me a few years ago and asked me to design a house that the two of them could build themselves. They wanted one each and they were going to help each other build them. I chose a 1.2-metre grid so you can lay it out on a couple of trestle tables and use pulleys and hoists to lift the roof panels. It is doable."
The one-bedroom home delivers 70m2 of internal floor space, including a mezzanine studio, with an estimated guide price of between £1,800 and £2,500 per square metre to build but how would the equation alter for self-builders? "We can reduce that cost through self-build by over a third. Exactly 40% of that cost is labour so you might not do all the structural elements, you might just do the insulation or you might do the cladding or painting. There are different amounts that people can do themselves." There's beauty in simplicity and presumably, this carries time savings as well. Smith answered: "We had three weeks in the factory and eight weeks on-site. The floor and the walls went up in a day and the roof took a week. There were a few little teething problems with the roof that we've now ironed out and we know for the next one, the roof will take two days at most."
Pointing to an uncomfortably low roof joist in front of the mezzanine window Smith admits that the COP26 House is far from perfect, partly as a result of serious-time constraints but the beauty of timber is it is flexible enough to permit reassembly. "You can see what is unfinished that you don't see from down below. It was a mad rush to get everything completed. It's a nice touchy-feely and I like that you feel it can pass it around a bit and not be too precious." How far should the homegrown aspect be taken? Do individual timbers have provenance down to specific trees? "We were chatting to Scottish Forestry about the fact that the machines that they use for harvesting are all interconnected and online. You can measure moisture, diameter and the precise GPS location of each tree. They're also doing Lidar monitoring and have maps showing how old trees are across the whole of Scotland including what falls within the finite harvest window. There's only a five-year window for harvesting."
Surprisingly, as Smith explains, it's not simply a case of leaving trees to grow for as long as possible for the best growth but to catch them before they get too tall and blow over in gales. "Did you know that the UK is the second-largest importer of timber in the world?", Smith adds. "It's the second-largest market after China." According to the Scottish Government Scotland has increased its woodland coverage from 5% to 18.5% in the last 100 years, better than the UK as a whole but below the European average of 38%. A lot of planting lies ahead. "We could do something much better in terms of what we grow, how much we grow and how we use it. We shouldn't be turning timber into pallets and fences. I've even heard of timber logs being taken straight from the forest and used as biomass wood chips. That's almost a sin. It should be illegal." But isn't it the case that a lot of plantation timber is of low quality and not necessarily suitable for construction?
"That's the thing. Engineers will specify higher grade C24 timber by default and as soon as you make that decision on a bit of paper that means you're importing from Scandinavia and Siberia or elsewhere. That one decision changing the C16 to C24 has a massive carbon impact." Outlining how a simple change in specifications and mindsets was all it took to get the ball rolling, Smith continued: "We sat down with David Narro engineers and said, 'what can we do?' 'How can we build a house using C16 for BSW to showcase Scottish timber? It's to do with moisture content and strength as well as the number of knots. Knots cause weaknesses. Our growth rings are wider so the grain is wider apart, and therefore not so strong." Despite having a footprint not much larger than a static caravan (the home extends to just five by ten metres on the ground floor and half of that upstairs), it conspires to feel much bigger thanks to the lack of any wasted corridor space.
Smith says: "This isn't something I dreamt up off the top of my head. This is a design that has developed over years through constant refinement and improvement." What scope is there for further customisation of the design for individual requirements? "Our build system can be used for any house design. We've got four or five different house styles including a square plan one-bed with a pyramid roof and the Croft House, which has a bedroom either end with the living space in the middle." From Anderston to Aviemore the need to embody net-zero carbon standards has to be rolled out at scale, something that is unlikely to be achieved via top-down initiatives alone. The COP26 House shows that house buyers don't have to accept what's given to them but can instead take matters into their own hands.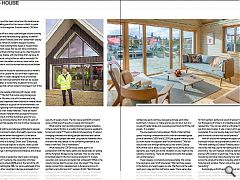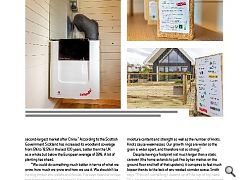 Back to January 2022