In the 40s and 50s, Brazilian architecture was described as "the envy of the world"; today it is rarely documented. Phaidon's book, Brazil's Modern Architecture, combines exemplary images with thoughtful essays.
11 Mar 2005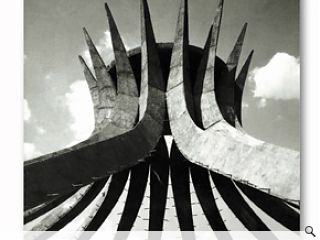 by Mark Cousins
The camera swoops down and tracks frenetically across a congested metropolis crowded with anonymous, high-rise slab blocks; the sense of chaos is palpable. The city is Sao Paulo, and Baz Luhrmann uses it as an exotic backdrop for this memorable opening scene in his Romeo + Juliet. Certainly Sao Paulo is the antithesis of Verona, but it encapsulates the director's distopian vision of the misery wrought by unchecked urban development. Admittedly the city now extends to over 1500 sq km and accommodates over ten million inhabitants, many obliged to live in sprawling self-built shanty towns (favelas), making it the largest (and paradoxically, the richest) city in South America. It is a city riven by social inequality and crime, where private security firms are the fastest growing industry; this is a city truly in thrall to the notion of constant change.
Fortunately Brazil's reputation is robust enough to weather Luhrmann's corrosive depiction and anyone who saw the expansive 'Brazil: Body + Soul' exhibition at the Guggenheim in 2002 can testify to the sheer creative dynamism of this vast country.
Detailed coverage of Brazilian architecture is relatively rare these days which is all very different from the 1940s and 1950s, when it was lauded as "the envy of the world" (to quote Reyner Banham). At this time the work of Brazilian visionaries such as Oscar Neimeyer, Roberto Burle Marx, Affonso Eduardo Reidy and Lucio Costa featured extensively in specially commissioned books, journals and, most notably, in the exhibition 'Brazil Builds' at the Museum of Modern Art, in 1943. The construction of the new capital Brasilia would be hailed as an affirmation of progress and the apotheosis of regional Modernism. Sadly, this rapturous adulation ended abruptly in 1964 with the imposition of military rule.
Certainly the Phaidon team must be commended for producing such a comprehensive and thought-provoking book. Many of the images (photographs, drawings, etc) are exemplary, but this is not a vacuous coffee table book; the essays (penned by a new generation of historians and architects) are thoroughly researched and incisive.
Inevitably any critical dissection of this period will encompass Neimeyer, the eminence of Brazilian architecture. An indefatigable belief in his own genius helped secure a series of prestigious commissions, most notably at Brasilia, where he was able to promulgate his own idiosyncratic brand of Modernism. However, this legacy is under review and some now question whether his venerated oeuvre is little more than a parade of "free forms devoid of function"?
The scope of this book is impressive and embraces tropical tectonics, urban planning, construction technology and political intrigue. The authors document the rapid progression from colonial/agrarian oligarchy to urban/industrial meritocracy which assists in contextualizing the significant buildings and theoretical shifts. The book opens with Schiller's observation that "aesthetics can be as effective as ethics in bringing societies together" and then concludes with a number of recent noteworthy projects. They include a hospital, a dental surgery and a cultural complex but each wrestles with the dilemma of how to translate a nation's cultural heritage into a contemporary language. Certainly Scotland could benefit from such a considered account of its own modern architecture, but will Phaidon take up this complex challenge?
Title:\'Brazil\'s Modern Architecture\'
Edited by: Elisabetta Andreoli + Adrian Forty
Published by: Phaidon Press 2004
Price:£45
ISBN:0-7148-4292-3
Back to March 2005