SpACE: Climate of Change
20 Oct 2021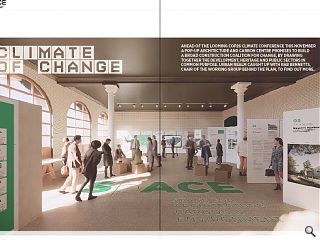 Ahead of the looming cop26 climate conference this November a pop-up architecture and carbon centre promises to build a broad construction coalition for change, by drawing together the development, heritage and public sectors in common purpose. Urban Realm caught up with Rab Bennetts, chair of the working group behind the plan, to find out more.
A pop-up architecture and carbon centre promises to bring the construction profession and the general public closer to the burning issue of the day, carbon reduction, with an exhibition at COP26 this November. Housed, appropriately enough, within the Old Fire House at Lauriston Place, now part of Edinburgh College of Art, the temporary venue will convey the sense of urgency that is necessary if we are to have any hope of reaching ambitious zero-carbon targets.
SpACE (Space for Architecture Carbon and the Environment) will bring up to 100 people including community groups, schools and the RIAS to serve as a forum for channelling public concern into action by documenting what a successful climate strategy looks like - as well as the practical steps needed to get there. It is a monumental task and it has fallen on the shoulders of Bennetts Associates director Rab Bennetts to undertake much of the early legwork in turning the idea into reality and he is under no illusions as to the scale of the task ahead: "We are at the end of 2021, we're partway along the route to zero carbon by 2030, which is unbelievably fast, but at least we know much of the answer. It's just a question of rolling it out."
Developed by 7N Architects the exhibition promises to be an exercise in simplicity, with the grand Edwardian hall of the former Fire House subdivided by a plywood wall, suitable for reuse, onto which recyclable sandwich boards can be pinned. Outlining the daunting scale of the challenge that awaits us all Bennetts told Urban Realm: "The Edinburgh Climate Change Centre estimated that to get halfway, will cost £3.5bn for Edinburgh alone. Now, some of that is self-funding but a lot will have to come from the council and government, which is bloody difficult. That's an enormous sum of money and of course, there's a skills shortage in rolling it out. You have to get roofers and plasterers and people for insulation and redoing the electrical sockets who know what they're doing. It's a hell of a thing to tool up for and I don't think you could get anywhere near starting in earnest for two, maybe three years. So, you've got five years left to roll out a lot. And, you know, in truth, it'll be amazing if they got there by 2030, but it's worth having a go."
Achieving a fraction of these goals in normal times would be a tall order but is it realistic to achieve them in the middle of a global pandemic? "I think Covid shows much change can happen if we're compelled to do it," remarks Bennetts: "I think the problem here is, of course, there's no law telling everybody, you can't meet, or you must wear masks. That's a completely different order from saying 'you really must insulate your flat' or 'you must change your lifestyle and not put that jacuzzi in the back garden'. Electric cars are coming and the government is legislating to get rid of petrol and diesel cars. That's good. Maybe if they legislate for house upgrades when they change hands, that might be a costly business, but you have to do something to kickstart this process."
Arguably Scotland is a world leader in the production of hot air, with a multitude of announcements and policy documents saying all the right words but with little changing on the ground to make good on these aspirations. With Greta Thunberg reportedly saying Scotland is not a world leader on climate change what can Space do to turn the ship around and help the country achieve its stated goals? Bennetts says: "Part of this is to address the politicians and say we've done the work that shows what you have to do. You've set the policy, now we have to join the two up.
"People are talking a lot about what's already been achieved because a lot of easy carbon reductions were done by decarbonising the grid and getting off coal and for that individuals didn't need to do very much. The next step is going to be far more difficult, getting the public behind wide-scale changes of all kinds down to the food they eat, that's a bit beyond the scope of this exhibition but the fact is it's going to be a hell of a job getting people to change to that degree. The case we're making is if you can reduce the demand for energy by doing something to your building stock, even if it's not 100% successful, you've got to start."
As a shop window promoting change, the Edinburgh pop-up will be at the heart of efforts to persuade the public to submit to the expense, hardship and hassle of change. The carrots of persuasion, events and workshops must be used in conjunction with the potential stick of future legislation. "If COP26 is getting publicity on the news every daymthen people will be wanting to know more and we need to get the message out there," says Bennetts.
The built environment forum will also (briefly) address the lack of a dedicated venue to discuss issues around architecture and urbanism, raising questions of what is happening down the road at The Lighthouse in Glasgow, which at this point remains shuttered. Asked about the fate of the western architecture centre Bennetts said: "It was hugely ambitious because it was the end of the 90s and required big lottery funding but it was in a very unpromising location up a little side street and split up into loads of floors. Its ownership has gone over to Glasgow City Council and I think they're trying to manage a decline, but I don't know if that means they are going to close it completely or keep some of it open but the message is to be careful of over-ambition."
A council spokesperson confirmed to Urban Realm that the authority was 'currently considering a variety of options for the long-term future of The Lighthouse' but the difficulties convey a salutary tale of what can happen if there is no sustainable footing. Acknowledging this Bennetts continued: "We don't have large sums of lottery money available for this. Altogether it costs around a hundred thousand pounds and that is only beacuase some people work for free." Nonetheless, if significant revenue streams can be found, be that from the lottery, public bodies or industry, Bennetts is open to the prospect of establishing a permanent presence to fill the void left as The Lighthouse retreats. Working hand in glove with the RIAS, which harbours plans to run a series of parallel events, there are currently no plans to maintain SpACE beyond November but Bennetts is hopeful that the exhibition can travel to other cities to help build consensus and take some of the heat out of more prosaic planning battles.
He said: "Planning in Edinburgh is always looked at as a bit of a battleground between heritage, planners and developers. There should be a greater consensus about the city's future. But instead, you get a lot of negativity. So you find community groups ganging up on planning applications when in fact there might be a mutual agenda on architectural carbon. There's nowhere central to display a really good scheme so, if there was a go-to venue where the planning applications could be displayed for consultation purposes, it would be this. It's independent and doesn't come across as a council mouthpiece."
Citing collaboration as crucial if SpACE is to have any hope of meeting its goals Bennetts wishes to foster a pan-professional push from design to construction if there is to be any hope of bending the ear of the UK government. "If you do something that's very partial to one sector, whether you're a developer, the British Property Federation or an architect, it won't have the same credibility with people. If you're talking with one voice, it matters much more.
"When Denise and I were at college we were always thinking architects were too inward-looking. We need to look outward and not just do things for architects. I've always wanted to get involved in the industry. I was with Arup for my first 10 years and developed strong relationships with contractors. We didn't see them as the enemy, as some architects do. For example, there's a committee lobbying the government about the dreadful procurement system. Well, do it jointly with others, because everybody feels the same why not approach the problem together, contractors included."
"There are normally three leaders that's the client, the architect, and the contractor. If you deviate from that basic model, it gets quite difficult. So the leadership skills in an architect, which are not taught, by the way, they should be, but they're not very well taught. Because that's what architects should be doing, leading the way. You can't just come up with some egocentric idea and expect everybody to fall behind it. I think leadership and business skills are probably the two skills most lacking. That's probably another feature."
With some 28 heads of state likely to attend the gathering this November there is an unprecedented networking opportunity to meet those with their hands on the levers of power but if the project is to receive buy-in from those who matter most and not be another cop-out it will require sustained, coordinated action, no small feat in an industry where corralling everyone around any point of view is akin to shepherding cats. Watch this space.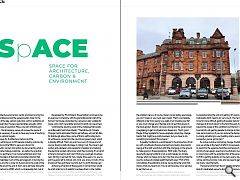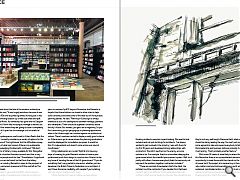 Back to October 2021