Architecture Zines: Paper Trail
22 Jul 2021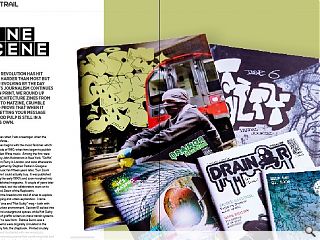 The digital revolution has hit publishing harder than most but in a sector evolving by the day grassroots journalism continues to thrive in print. We round up the best architecture zines from Glaspaper to Matzine, Crumble and -ism to prove that when it comes to getting your message across wood pulp is still in a class of its own.
I fell in love with zines when I was a teenager, when the possibilities were infinite…
The story of zines begins with the music fanzines which blossomed either side of 1980, when fans began to publish their response to New Wave music. Among the first were "Punk", produced by John Holmstrom in New York, "Sniffin' Glue" edited by Mark Perry in London, and soon afterwards "Pastelism", put together by Stephen Pastel in Glasgow.
As a teenage music fan fifteen years later, "Sun Zoom Spark" was a fanzine I could actually buy. It was published in Galashiels during the early 1990's and soon morphed into a professionally-published magazine. A couple of years later Sun Zoom Spark folded, but the collaborators went on to form indie rock band, Dawn of the Replicants.
Later I followed the breadcrumb trail of zines to explore graffiti, freight hopping and urban exploration. I came across "Section 61" zine and "Not Guilty" mag – both with fresh takes on the urban environment. Section 61 delved into derelict buildings and underground spaces, while Not Guilty captured the work of graffiti writers on mass transit systems.
Yet the zine isn't a new form. Robbie Burns was a zinester, and his poems were originally circulated in the literature of ordinary folk, the chapbook. Printed crudely onto cheap paper and illustrated with raw woodcuts, chapbooks were anonymous pamphlets containing tales and ballads. Like Tam o' Shanter's "snowfall in the river", zines are ephemeral – yet just like Burns' chapbooks, they leave something lasting behind.
This article is a brief survey of independent architectural publishing in Scotland over the past couple of decades: the pamphlet architecture, D.I.Y. press and zines whose occasional issues come out according to their own inner dynamic. Five of the six titles here – Crumble, Gargoyle, GLASpaper, -Ism, Matzine – sprang from architecture schools, while Mmm magazine was in several respects a one-off.
The first architecture zine I came across was GLASpaper, and uniquely it was the outlet for a design co-operative, rather than an end in itself. It's the most politically-conscious of the zines, and as Adrian Stewart told me, "It's very refreshing to hear GLAS referred to again, especially as many of the issues we were responding to are even more valid now than ever."
G.L.A.S. was a collective of architecture students, teachers and designers based in Glasgow which came together in 2000. As Jonathan Charley explained, "G.L.A.S grew out of a design studio that I ran for ten years at Strathclyde. Together with ex-students we decided to organise an architect's co-operative with a mission to provide a radical critique of the capitalist built environment."
G.L.A.S. produced nine thematic issues of GLASpaper. The first appeared in 2001 and a second quickly followed, protesting against the M74 extension. By issue seven the team had travelled from Glasgow to Berlin, and the ninth and final issue appeared in Winter 2004. As it happens, it was printed as a broadsheet – just as the original chapbooks were.
Mmm Magazine was conceived and edited by Rory Olcayto, and like the early issues of GLASpaper, it was supported by The Lighthouse. "Man made memories - Helensburgh" appeared in 2003; unlike the others here, it lasted for only one issue. Its bold drawings and vivid colours were strongly influenced by comicstrip art, and it borrowed the format of a graphic novel to relate ideas about architecture and urbanism.
After several zine-less years, Matzine arrived in 2009, and became the longest running of the titles. I chatted to Rowan Mackinnon-Pryde who explained, "We began the zine as a group in our final year in Architecture at Dundee. When we graduated, and everyone was dispersed and working in practice, it was decided that each issue would be edited by a different member of the team … whilst at times that might be problematic, in fact it's quite liberating."
Matzine treads the fine line between serious ideas and intellectual playfulness, which helps to give it the characteristic personality which is sometimes lacking in titles which have a revolving editorship. When I asked whether Matzine was part of a wider movement, Rowan noted that, "We were aware of 'zine culture' but the invitation to be part of Archizines perhaps brought to our attention the wider movement of informal architectural publications." Archizines was a touring exhibition and later a book produced by Elias Redstone which captured the zine scene a decade ago.
While some titles are uncomfortable with being called a zine, Rowan was quite emphatic: "Matzine is definitely a zine," and she went on, "To try to define what the content of a zine should or could be, probably misses the point! Matzine stretched the format of the magazine to include debate and voice. The events and debates became an important and intrinsic exploration of each theme, and brought us together as editors."
I wondered how zines fitted into the wider Scottish architecture scene? "Zines and commercial magazines serve different purposes and can co-exist quite comfortably. The freedom that the zine structure/ lack of structure offers can lead to some really creative outputs, however the fact that these projects are often self-funded can prove to be limiting."
Costs aside, the physical format still offers lots of value. "As a group, I think it's true to say that all the editors of Matzine share a love for the printed artefact and we are interested in how a physical publication is constructed." After a run of thirteen issues plus a special, Matzine went on hiatus in 2014 although Rowan explained, "The zine isn't currently active, but all the editors are still in touch, and it's not dead, just hibernating!"
2017 was a productive year, with another two titles emerging: Crumble and Gargoyle. Crumble sprang from Edinburgh School of Architecture and its first issue begins, "This is not a magazine about architecture," which previous editor Holly Baker reinforced: "It's an architecture magazine that isn't an architecture magazine".
I spoke to current editor Felix Wilson and asked him to explain the paradox. "We aren't a glossy 'architecture magazine' but I would argue we are more formal than a zine, yet more intermediate and anti-dramatic than a 'traditional' magazine. By creating an architecture magazine that isn't an architecture magazine, I think we are able question and focus on what exactly the discipline is about, what it can entail and what is even relevant to ask."
True to that manifesto, the writing is accessible and the articles are pithy – but the most striking aspect of Crumble is its design and repro. The Risograph machine has become identified with zines, just as the xerox machine was in the 1980's, and Riso printing offers the potential to work with spot colours as a screen printer would. It also has an endearingly wonky character which Burns's chapmen would recognise.
Felix explained, "We chose Risograph partly because of the striking visual aesthetic, partly because of the scale of production and partly because of what is on our doorstep. We have a lovely relationship with Out of the Blueprint, our printers from the start." Felix agreed with Rowan at Matzine that printed matter still has a place in 2021: "Physical media has more pleasure, joy and excitement to it."
Since the editorial baton has passed from Crumble's founding editor Theo Shack to the next generation of students, I asked Felix what the advantages are of having a revolving editorial team. "In many ways Crumble is an untested Prototype form of practice as we are forced to change leadership every couple years and our contributions to architectural culture extend beyond our physical magazine."
Also part of the Class of 2017 is Gargoyle, which offers a whimsical take on the city: photos and drawings interspersed with lyrics and reflection. At 16 pages of A6, which expanded to A5 size in the most recent issue, Gargoyle is modest. When I spoke to co-editor Liam Cooke, he explained, "Gargoyle has always been a small publication – initially the equivalent of a single sheet of A3 paper. We only had two guest contributors per issue and the rest of the content we produced ourselves; there is no large revolving team behind it!"
The editors met at the Mackintosh School of Architecture, although "When we launched Gargoyle in 2017, we weren't aware of a contemporary movement of zine culture in architecture. We had publications like Archigram and the original MacMag in mind … but it was only later that we started to meet other zinemakers who were engaging in architectural discourse, and now it is easy to see Gargoyle as part of a wider 'archizine' movement in Scotland."
Liam continued, "I attended an Architecture Fringe event a few years ago which involved a discussion with several speakers from various levels of architectural publishing – from small zines to established magazines – and while each viewpoint differed, some content to be included in the discussion, others calling for disruption and critique, the resulting conversation was fascinating and one I hadn't heard before."
"For us, with Gargoyle we try and open up the discussion on architecture to a wider audience, to appeal to the reader who wouldn't pick up an architecture magazine and read a review, but might buy a poetry collection or visit a photography exhibition." As with Crumble, Gargoyle aims to reach out beyond architects and architecture students; but like Matzine, Gargoyle is currently taking a break after a run of eight issues.
-Ism Magazine is the most recent of the six titles, approaching its brief with a theoretically-inclined curiosity and publishing some stylish and acute writing. -Ism also neatly closes the zine circle. When I spoke to Aoife Nolan, she explained, "We were exposed to GLASpaper while at university, having been taught by Jonathan Charley who was a member of their editorial team."
-Ism started out in 2019 at Strathclyde and three issues have been published so far. Aoife explained, "Overall, the magazine is evolving in parallel with our team's experiences, which has provided us with a prism based on the different stages of an aspiring architect's career, initially as students and currently as young professionals working full-time."
I wondered whether the editorial team saw -Ism as part of a wider movement? "Yes, we do feel there is something happening in Scotland with magazines, zines and publications in relation to architecture. We can't pinpoint it, but hope it's going to keep growing." Aoife continued, "We are not trying to challenge established titles per se., but would like to challenge established themes or norms that are ingrained in our thinking … Some of the other magazines do this too, but we like to celebrate this attitude of fearlessness."
Aoife ended by suggesting, "The current movement of publications in Scotland carries a tone of, 'Hello, we are here just trying to figure things out' because we've learned, as a younger generation that not being open about this statement has caused disastrous problems in the profession."
That spirit of exploration shows that there's more to architecture writing than news items, building reviews and PR pieces. As Joan Didion said, "I write entirely to find out what I'm thinking, what I'm looking at, what I see and what it means." Zines are a vehicle for discovery, if not a rival to commercially-published magazines like Urban Realm which report, record and occasionally rant.
Yet the two cultures aren't mutually exclusive; some of the Matzine team have written for Blueprint, while Rory Olcayto went on to become the editor of Architects Journal. But there's also a counter-story to the rise of zines – which is the decline of print magazines. The AJ gets thinner each year, Building Design went digital, and Arca magazine, which was a competitor to Urban Realm's predecessor, closed after a few issues.
Nonetheless, print is still important. As the zine makers emphasised, part of the joy of zines is in making a physical thing. Aoife Nolan admitted, "We try not to fetishise printed matter, but let's face it — we do!" and perhaps that sums up the essence of the archizine.
Back to July 2021