Allan Murray Design: Ideas Man
7 Jul 2021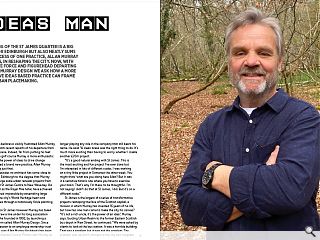 The opening of the St James Quarter is a big moment for Edinburgh but also neatly sums up the success of one practice, Allan Murray Architects, in reshaping the city. Now, with its creative force and figurehead departing for Allan Murray Design we ask how a more explorative ideas based practice can frame future urban placemaking.
"I'm not retiring!" declares a visibly frustrated Allan Murray as he seeks to scotch recent reports of his departure from the architecture scene. Indeed, far from putting his feet up and hitting the golf course Murray is more enthusiastic than ever about the power of ideas to drive change and has established a brand new practice, Allan Murray Design, to achieve just that.
Over recent decades no architect has come close to reshaping central Edinburgh to the degree that Murray has, overseeing large scale urban renewal projects from the newly opened St James Centre to New Waverley. His lesser works, such as the Royal Mile hotel, have achieved what others deemed impossible by assembling large tracts of land in the city's World Heritage heart and driving his schemes through a notoriously fickle planning process.
With all eyes on St James however Murray has taken this moment to draw a line under his long association with the practice he founded in 1992, by launching a new design-led firm called Allan Murray Design. Since transferring possession to an employee ownership trust at the start of the year Allan Murray Architects has been run by managing director Connor Pitman with Murray no longer playing any role in the company that still bears his name. He said: "A clean break was the right thing to do. It's much more exciting than having to worry whether I create another £20m project.
"It's a good natural ending with St James. This is the most exciting and fun project I've ever done but I'm interested in lots of different scales. I was working on a tiny little project in Somerset the other week. You might think 'what are you doing here Allan? But it was in a sensitive historic site where you have to exercise your brain. That's why I'm there, to be thoughtful. I'm not saying I didn't do that at St James, I did. But it's on a different scale."
St James is the largest of a series of transformative projects reshaping the face of the Scottish capital, a mission in which Murray has invested 16 years of his life, but how has one man come to make the city his canvas? "It's not a rich uncle, it's the power of an idea", Murray says. Guiding Urban Realm to the former Eastern Scottish bus depot in New Street, he continued: "We were asked by clients to look at the bus station. It was a horrible building. That was a problem but it was not the problem. The problem was we don't connect to the city and integrate within Edinburgh. I went to the interview and said 'I think we need a bigger site here. Usually, clients will say we don't have it but to their credit they said, what do you mean by that? We said well, here are the sites owned by the council. We need to talk to them about bringing those sites into a larger master plan. Instead of just the bus station site, we brought the depot and The Arches together."
The ability to think big and offer clients, not what they necessarily asked for, but what they could have is a recurring theme in Murray's work and an approach he encourages others to follow. "An architect simply providing a service is doing no service to the profession. We need to bring innovation and ideas. Be lateral and say, 'we can think like this'. Not everything's going to happen but if you don't do that it's guaranteed nothing is going to happen. Architects need to go back to what we used to do. We were leaders of the process and thinkers. Rewrite the problem and make something better out of it.
"You've got to come up with an idea, otherwise you're just saying hire us, we've done stuff before. We've done this before and we'll be fine. It is not good enough."
This approach focuses not on individual buildings but on spaces and the connections they open up, carving out a literal New Street and providing a new public square to give the dense city centre some breathing space. "There are a couple of object buildings which sit and hold space around them. The rest are bit players. I think of it like dropping an inkblot in water, there needs to be dissonance and that's what makes the Old Town so interesting, it's the hugger-mugger of what you don't expect."
This urban design strategy was inspired by a visit to the Piazza dell'Anfiteatro in Lucca, Italy, a public square bounded by buildings that follow the elliptical shape of a Roman amphitheatre. "It's a beautiful enclosed space but you wouldn't give tuppence for any of the buildings, none of them is particularly special. But wow, that space. It's not about the architecture. We wanted to create a gathering space for festival events."
Small flourishes are there to be found, notably a two-storey arched pend through to the Canongate. "It's my favourite element", states Murray. "I thought, how do I make a small thing at the front bigger at the back, like the TARDIS. You can stand there and see the whole of the Nelson Monument because the arch lifts."
Still thinking big Murray is championing ideas drawn up for Network Rail at Waverley to top over the railway station with a proper 21st-century roof and bridges and restore the Nor Loch as part of an urban park. "These are ideas that are worth pushing forward. We have to regain the high ground in architecture and in doing that show, not just clients, that we can bring forward new ideas that are going to benefit the city environment and bring joy back. The creative part of AMA was me.
"I've always believed in myself. It's a prerequisite for being an entrepreneurial architect. I started with nothing. When I came back from Harvard to Edinburgh the last project I did was a skyscraper, you want to do large-scale important work. That's why I'm starting a new practice and the key is in the last word. It's about design. It's about being able to experiment freely without being encumbered by what you've done before."
But with Allan Murray Architects you've got a huge team and the resources behind you, can't you achieve more within that framework? "Not if no one else shares your values. The practice is led by me but the limit placed on how to experiment and innovate, when people are less inclined to want to do that it makes for a difficult conversation. I felt constrained and I wanted more freedom to be creative.
"When I made the employee ownership trust I thought this was the right thing to do. The trouble is you make too many bosses. I'm going to continue with a lot more experimentation and innovation. I don't need a huge outfit behind me to work on these ideas. I just need two or three people."
Importantly for Murray, this newfound freedom opens the door to collaborations, such as with Hampshire-based Pad Studio as well as another unnamed Edinburgh practice. "This isn't something that happened recently, I've been thinking about it for the past 10 years. Big projects are great but I'm keen to be a lot more focussed."
Unifying the large-scale universe and the quantum world is a quandary that has stumped physicists for a generation but with Allan Murray Design, Murray believes he has discovered the correct equation for bridging the long-standing gulf between design-led and commercial practices. If he is successful it will provide a model for others to blaze a trail.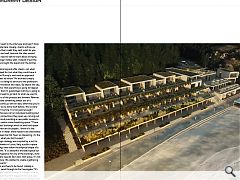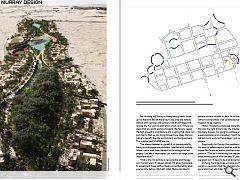 Back to July 2021