Practice Profile: O'DonnellBrown
|
Send to friend
20 Apr 2021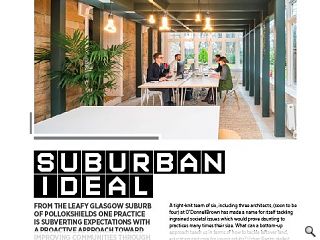 From the leafy Glasgow suburb of Pollokshields one practice is subverting expectations with a proactive approach toward improving communities through self-initiated work that spans everything from a modular classroom to a custom sitooterie and park pavilion. Urban Realm caught up with Sam Brown and Jennifer O'donnell to see what makes O'Donnellbrown tick.
A tight-knit team of six, including three architects, (soon to be four) at O'DonnellBrown has made a name for itself tackling ingrained societal issues which would prove daunting to practices many times their size. What can a bottom-up approach teach us in terms of how to tackle leftover land, education and care for young adults? Urban Realm dialled into the practices idyllic greenhouse studio to find out.
As a profession architecture has never shied from tackling society's big issues, even when a lack of financial firepower and an inability to effect policy change has undermined that work. O'DonnellBrown exemplifies that approach, fostering conversations with those on the ground to bring about positive change at a granular level. In a world where horizons end in the local neighbourhood, it is a solution that has struck a chord with charities, community groups and developers alike. From a tentative start delivering small-scale education projects in the London borough of Tower Hamlets, O'DonnellBrown have broadened their focus since relocating to a purpose-built studio space in Pollokshields. The Greenhouse was the teams first self-initiated project and established the guiding principles which have governed its approach to design ever since.
As the team explained: "By retrofitting our home we saved money on studio rent and we were able to channel funds into self-initiated projects, one per year – which has led to the development of the Community Classroom and the Sitooterie, a flexible outdoor seating space designed in response to the pandemic." The key to this approach is the ability to frame client expectations in a way that delivers more than a traditional architectural service. Much of this shift has been led by the Community Classroom, a simple modular multi-purpose timber build that can be assembled by volunteers. The success of this project has already led to several follow-up commissions including a community project at Strathclyde Country Park delivered in partnership with artist Kate V Robertson.
Asked how the practice is taking a lead on community-led regeneration the team told Urban Realm: "Architects are equipped problem solvers with creative but also grounded and pragmatic sets of skills. We need to be bold, stay idealistic and get involved. As a practice, we are on a mission to bring about positive change in our community, and the communities we work with. We use our self-initiated projects to start conversations and tackle problems.
"'The Sitooterie' embodies this approach. We were spurred into action listening to the difficulties faced by local restaurant and café owners, and self-initiated a project to understand how we could help these businesses open once the stay-at-home messages changed. This, in turn, enabled our design response to utilise underused space within our neighbourhood, and building on our Community Classroom project, we developed designs for its smaller cousin, the Sitooterie, a parking bay sized dining space offering socially distant seating configurations within a structure that each business can brand in its unique way." A quick scan through O'DonnellBrown's catalogue reinforces this sense of a social conscience but it is only through the art of conversation that such projects can even begin. It is this open dialogue that has helped secure funding from Glasgow City Council to build a 165sq/m multi-use pavilion to serve as the park's focal point. A simple timber-framed structure clad in dark-stained wood the pavilion illustrates the team's focus on seeding post-pandemic communities. The practices largest project to date at the Govan Graving Docks promises to put these ideas into practice on a much bigger canvas.
The practice said: "We worked closely with Tom Laurie, a long-standing project champion and mentor who sadly passed away recently, and started conversations with local community groups and organisations, and listened to people's ideas, working with key stakeholders to develop a community-led cultural and heritage strategy. "The key findings and emerging themes from this early exercise – space for making, space for storytelling and space for cultural activity - have informed the emerging masterplan moves." Another driver of the practice's project work is teaching, with O'DonnellBrown forming part of Strathclyde University's 'experience practice' initiative to give students a taste of practice life early in their academic life.
"In practice we set up dialogues through our self-initiated projects such as our studio, an extension of Jennifer and Sam's home in Pollokshields, which strengthens our connections with our neighbourhood; and the Community Classroom, a prototype which is being built on sites across the UK, through a partnership with SpaceOasis, serving an array of communities." Another key project for the team is the Barnardo's Gap Homes project born out of the Community Classroom and has now grown to develop new housing solutions for young people leaving the care system at sites in Paisley, Maryhill, Stirling and Kirkcaldy. Armed with the confidence of their convictions O'DonnellBrown finds itself moving beyond client briefs to be in a position to set new standards with every project.
The practice states: "Here our approach was developed from a concept of protection, enclosure and community achieved by arranging homes to form shared outdoor space. Young care leavers have been at the centre of the design process and through listening, including them in the decision making and designing with empathy we hope to create homes that will provide the best possible start to independent living." Languishing at home there's a tendency to become despondent but by creating an environment where ideas and not long hours are rewarded O'DonnellBrown is positioning itself in the vanguard of efforts to lead us out of crisis and towards a greener, healthier and happier world.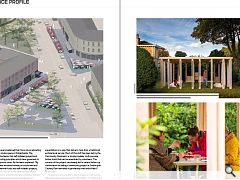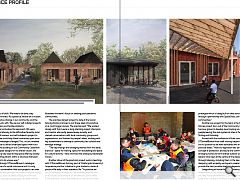 Back to April 2021