Exploring Edinburgh: Hidden City
20 Apr 2021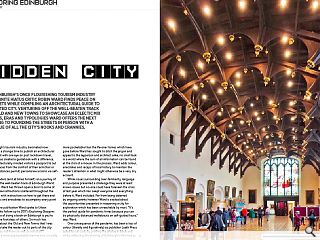 With Edinburgh's once flourishing tourism industry on indefinite hiatus critic Robin Ward finds peace on the streets while compiling an architectural guide to his adopted city. Venturing off the well-beaten track of the Old and New Towns to showcase an eclectic mix of styles, eras and typologies ward offers the next best thing to pounding the streets in person with a catalogue of all the city's nooks and crannies.
With Edinburgh's tourism industry decimated now might appear a strange time to publish an architectural guidebook but with one eye on post lockdown travel, Robin Ward has created a guidebook with a difference, handing architecturally minded visitors a passport to out of the way places from the comfort of their armchair or (when circumstances permit) personal excursions via self-guided walks.
Taking readers (and at times himself) on a journey of discovery off the well-beaten track of Edinburgh World Heritage sites Ward has thrown open a door to some of the lesser-known attractions scattered throughout the city complete with instructions on how to get there and personal notes and anecdotes to accompany every point of interest.
To mark the publication Ward spoke to Urban Realm about his follow-up to 2017's Exploring Glasgow: "The challenge of doing a book on Edinburgh is you're following in the footsteps of others. So much has been written about the Old and New Towns that I was determined to take the reader out to parts of the city which they may not know so well, or not at all." Written in a more approachable manner and, crucially, more pocketable than the Pevsner tomes which have gone before Ward has sought to ditch the jargon and appeal to the layperson and architect alike, no small task in a world where the sum of all information can be found at the click of a mouse.
In the process, Ward adds colour, anecdotes and recaps of local history to maintain the reader's attention in what might otherwise be a very dry account. While issues surrounding over-familiarity, language and purpose presented a challenge they were at least known issues but no-one could have foreseen the crisis of last year which has swept everyone and everything before it, Ward included. Far from being deterred by ongoing events however Ward is excited about the opportunities presented in reopening a city for exploration which has been unreachable by most. "It's the perfect guide for pandemic times because you can do physically distanced walkabouts on self-guided tours," says Ward. One consequence of the pandemic has been a loss of colour (literally and figuratively) as publisher Luath Press opted to cut costs by printing the photos in black and white, reflecting the draining of Edinburgh's lifeblood as the people who lend the city their energy, creativity and passions are forced to stay away.
Turning a constraint into a positive, however, Ward notes that Edinburgh remains a black and white city of soot-blackened buildings and this was also an aesthetic choice that lends a timeless quality to the photography. From the roll call of architecture through the ages several more recent examples are notably absent from Ward's pages but this is no oversight as the author explains: "I tried hard to include the best contemporary buildings not just the old familiar stuff and there are some very good modern buildings. There is also a lot of trash but my protocol for the book was, if I can't say a good word about a building then it's not in." Thus it will be left to future guidebooks to pass judgement on developments such as the St James Quarter.
It's fair to say the average visitor isn't drawn to the city by the delights of the St James Centre or Edinburgh Park, as ward adds: "While locals might want to know what Robin Ward thinks of the St James Centre I don't think visitors would engage with that kind of criticism. It takes a bit of looking but there's some good there." Fortunately, Ward estimates that around 80% of the work behind exploring Edinburgh had been completed before the lockdown in March but the shutdown wasn't entirely without its benefits. "I did notice standing in Edinburgh during the Festival, or at any time, it is impossible to get a good shot of a building. Lockdown is good in some ways. It reminded me of these old Victorian photographs where the long exposure made people just disappear."
From this privileged moment in time Ward has been able to pound the streets in relative peace but what are the longer-term implications of a prolonged pause to everyday life, is this a chance to take a breath, step back and follow a slower pace of life in a more localised world? Embarking on a road well travelled the immediate danger is boredom through familiarity. How did Ward set about curating an idiosyncratic collection of hidden gems? "I spent a lot of time wandering around Leith taking sketches and photographs, most of by foot or driving around the suburbs if I saw something I'd do a quick U-turn and look at it. I also read several books on local history, if something catches my eye I'll go out and look at it.
At the Livingstone Memorial (entry 172) off Morningside Road, there's an ancient 16th century stone, which commemorates the plague. I walked past this and found a gate before researching to find out more. Some of it is entirely serendipity and chance. "I've often found the most useful source of information comes from talking to people. I would go to churches and wait for the service to stop and then talk to the elders and the congregation. In every case, they're all keen and happy to answer questions." Another standout discovery is a JJ Burnett building on George Street, an Edwardian Baroque confection that is also surprisingly modern. Ward recalled: "It's completely out of place but what a building, it just sings.
What's wonderful is not just the façade but an almost modernist glass elevation which is quite striking. There are several examples like that in Glasgow where you think why didn't they put that at the front." Not restricted to buildings alone Ward also turns his gaze up towards the multitude of sculptures, cartouches and frieze's which line Edinburgh's streets, nowhere more spectacularly than at the National Portrait Gallery whose Venetian Gothic façade was recently augmented by a Page\Park addition. At its heart Exploring Edinburgh is no mere passive instrument of display destined to languish on a coffee table but a call to get out of the house and see Edinburgh at first hand.
"The best reader is one who buys the book and follows the route. Every entry is keyed to a mapped route according to the most interesting buildings. The disadvantage of doing that is that any buildings too far from the route don't make the cut. I can probably give you a list of buildings that should have been in the book! I had to be selective. Printed maps encourage exploration and Ward is keen to make his tours as self-contained as possible to limit the need for juggling items while on the move. He said: "You might have your smartphone in your hand but it's not as easy to walk around with Google Maps as you might think."
In a world whose horizons have shrunk to our immediate neighbourhoods the true value of Exploring Edinburgh is its enthusiasm for adopting a fresh perspective on familiar sights and places, in doing so Ward reaffirms that the most impactful discoveries are those which lie closest to home, right under your nose.
Back to April 2021