HokoDesign: Small wonder
18 Jan 2021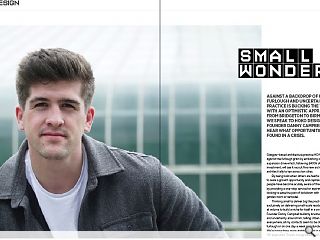 Against a backdrop of recession, furlough and uncertainty one practice is bucking the trend with an optimistic appraisal from Bridgeton to Birmingham. We speak to Hoko Design founder Danny Campbell to hear what opportunities can be found in a crisis.
Glasgow-based architecture practice HOKO Design is going against the furlough grain by embarking on an ambitious expansion drive which, following £400k of private equity investment, will see it recruit five new architects, bringing its architect tally to ten across ten cities.
By being bold when others are fearful the business hopes to seize a growth opportunity and capitalise on a period where people have become acutely aware of their home environment by providing a one-stop service for aspirational homeowners looking to ease the pain of lockdown with a new extension, garden room or remodel.
Thinking small to deliver big the practice is focussed exclusively on delivering small-scale residential extensions at volume to build a niche for itself in a crowded sector. Founder Danny Campbell bullishly brushes aside the chaos and uncertainty around him, telling Urban Realm: "It's misery everywhere, all my contacts seem to be clinging on with furlough or on one day a week or redundancy. It's brutal. We're hiring three more architects and in a week we had 150 applicants. There's a huge talent pool out there at the moment.
"By the end of the year, we'll be over 20 staff with at least 10 architects in ten locations despite what might happen with the lockdown regulations."
Setting his sights south on Manchester, Dublin, Belfast Leeds, Birmingham and Bristol, Campbell is leapfrogging organic growth in favour of a big bang approach to deliver scale at speed, capitalising on an architecture profession which remains fragmented following the last economic crash in 2008.
Divulging the secret of his success Campbell cites a focus on small projects to the exclusion of all else. "The way our model is set up works well for small extensions," says Campbell. "We can make that model aspirational. Architects see that work as unglamorous but it's one of the few small crevices in the construction industry where people say thank-you."
Determined not to follow the diversification strategy that others have pursued Campbell sees value in a laser-like focus on domestic work and doing it well, particularly in an economic climate where the importance of the home as a place of work and a refuge from the outside world has become more important than ever.
As a relative newcomer to the profession, Campbell has the benefit of a fresh perspective and lack of preconceived notions of how the world should be, seeing opportunities for growth where others see recession.
"The whole construction industry is very fragmented," Campbell says. "Most people don't know where to find an architect and don't know what an architect does. By default, they make bad decisions. Architects don't market themselves."
Having identified a blind spot in the industry for the smallest projects Campbell has been swift to capitalise, commenting: "From day one in training we're inspired to work on bigger and bigger projects. I've seen part 2 graduates who have prepared an urban masterplan, it's unrealistic in the real world of building. There's no mention of dealing with builders and clients, it's all left to the imagination. They don't even really mention planning or building control through university. What you have is a few really big players who employ almost all the new graduates and it's almost impossible to qualify if you've not worked for one of those.
"I qualified for my part 3 at 28 and went straight into my own company, I don't know anyone else who has managed that, it's a logistical struggle."
Low fees require high volumes to be viable and here HOKO also claims an edge, by recruiting back-office technicians to handle drawing work, freeing up the architect to speak with many more potential clients, differentiating them from more established firms. As Campbell notes: "The way the industry is set up favours big players and anybody who doesn't want to work in a huge organisation has to start up on their own while being trained on a model which completely clashes with the needs of private homeowners.
"What we offer to our project architects is they don't need to do any draughting, no sitting behind the computer. They do drawings and genuinely spend a lot of time on design and the client experience. We've then got the engine room back in Glasgow that facilitates all that."
HOKO differs from digital architecture companies such as Resi by employing of by employing local architects and builders to deliver projects, minimising risk during the fraught build stage. "All the risk is piled up in construction", observes Campbell. "We put a lot of emphasis on building relationships with contractors, the volume of work facilitates it. I feel for the contractors because they're in the same boat as a lot of the small architecture firms, there's a lot to deal with and the tendering aspect gets rushed."
Asked what the public reception has been to this more democratic form of architecture Campbell adds: "They're often quite confused about what we do, they don't understand what an architect does. We're not trying to win the Stirling Prize for every project, we're just trying to create something unique and special. There's no bog-standard design we'll throw up."
Attention to the client experience extends to support for virtual reality technology which has proved a boon to streamlining communication with an online project dashboard and cost builder facilitating business during lockdown. "People generally struggle to visualise stuff on plan", explains Campbell. " I struggle sometimes to understand material qualities and heights when you are looking at a flat drawing. What we can do is share virtual reality with moving trees and realistic sun paths, it's almost photorealistic and goes back to that question of how we can build a better client experience. It also saves time as people can misinterpret plans.
"We're not making home visits at the moment which will dampen our sales ability but we have a strong pipeline of projects which we can devote attention to. We have seven-day turnarounds for producing drawings which we can bring down to three. It's tough for small businesses to survive, no-one wants to turn to the government to bail them out. We all want to work and do what we love."
Looking ahead Campbell harbours ambitions of taking the concept internationally, establishing HOKO as a household name in a world where only a few starchitects can boast name recognition. In doing so Campbell can democratise access to architecture and architects by eliminating barriers and the perception that architecture is only for the rich.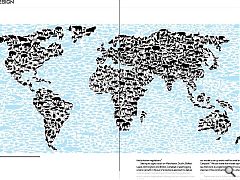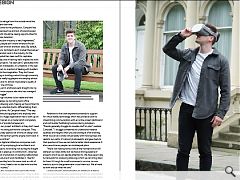 Back to January 2021