Cantilevers and context
|
Send to friend
1 Aug 2006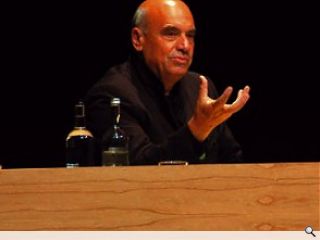 This year's RIAS convention was held in Perth at BDP's recently completed concert hall. The programme was less ambitious than in previous years, but the handful of well-chosen speakers and the quality of the venue made it a highly successful event.
If last year's RIAS convention was about grit and passion (Govan and Murcutt), this year's was a more glamorous affair and could be summed up as context and cantilevers. In comparison to previous years it was a streamlined event; there were just three plenary speakers (Louisa Hutton, Mario Botta and Massimiliano Fuksas) and one session of workshops. The prize giving and the formalities were kept to a minimum; Patricia Ferguson, the Minister for Architecture, made a short speech about the architecture policy, but the rest of the time delegates were provided with the ideal setting to network and catch up with old friends.

Louisa Hutton of Sauerbruch and Hutton opened the convention with a refreshingly thorough analysis of a single building, the Federal Office for the Ministry of the Environment (UBA) in Dessau. The 40,000 square metre building has been built on the site of a former gasworks. On plan it's like an amoeba, a loop of cellular offices around a central void. The skin is made up of strips of cellular offices, softened by the use of timber cladding and the absence of hard corners. The UBA was highly politically motivated client, and the building has been used to demonstrate the possibilities of heat recovery systems, sustainable materials and cleaning up contaminated land. The building does not occupy the entire site but allows for the formation of a linear park linking green spaces on the adjoining blocks. It's also a very public building.

Botta is probably best known for his American buildings, such as the Museum of Modern Art in San Francisco which was completed in 1995. In recent years the architect seems to have drifted off the radar – a postmodern architect in neo-modern times. However, while he may have been out of the limelight his office has been very busy; most of his more recent works are in western Europe and Asia.

His presentation focused on his intervention into the Theatre alla Scala in Milan, the Modern Art Museum of Trento and Rovereto, the Kyobo Towers in Seoul and the TCS offices in New Delhi. Botta's contemporary work is conducted in a familiar language: the drum, the horizontal bands of materials and the tall slit windows with deep reveals.

It would be easy to write him off as a postmodernist but what is clear is that his attachment to a certain architectural language has allowed him to retain and develop a strong sense of discipline. His plans are so clean and his design intentions so clear.

His work in Asia provokes an interesting question about our understanding of contextualism. Botta believes that western Europeans have a lot to offer Asia, not through a particular language, but through their depth of understanding of the city.

Fuksas was equally thought provoking. He began his presentation on a more serious note with a political monologue on democracy. "We have to find a new form of democracy. In Europe everyone is against politics – we have to improve our concept of democracy. Architects can help; we can do things and give some ideas, our buildings are part of democracy," he said. "When you see the destruction of the Buddhas in Afghanistan you feel that we have lost something. Then we understand the importance of architecture – not when we have it, but when we have it no more, like the twin towers. Architecture is our emblematic way of expressing democracy," he added.

While many architects share Fuksas's belief in the power of architecture they might struggle with his literal interpretation of the role of the 'creative class'. "In the USA there are 40 million people working in what is defined as the creative industries. Those people can find a solution for human problems of transportation and water," he added. He seemed to be suggesting that architects were at the vanguard of the struggle for social justice.

Then he showed his astounding portfolio of current and recently completed work: the Milan Exhibition Centre with its 1,300-metre-long glass axis; the Congress Centre in Rome, which is currently under construction; and the HQ for Ferrari in Maranello in Italy.

The Ferrari HQ consists of a slab of accommodation with holes punched in it, raised up on storey-high pilotti, leaving most of the ground space free for water features and elegant ramps, with the most spectacular cantilevers floating above them. Fuksas's main architectural message was that architects should not be afraid of being form makers.
Back to August 2006