Sustainable Construction: Mass Timber
|
Send to friend
17 Apr 2020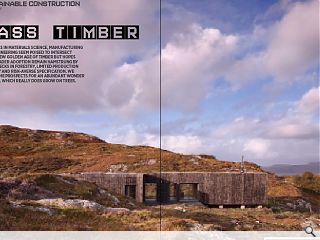 Advances in materials science, manufacturing and engineering seem poised to intersect with a new golden age of timber but hopes for broader adoption remain hamstrung by bottlenecks in forestry, limited production capacity and risk-averse specification. We assess the prospects for an abundant wonder material which really does grow on trees.
Earlier this spring, in one of the last gatherings to take place before the coronavirus lockdown, a group of engineers, architects, academics and industry representatives from around Europe gathered for the Mass Timber Academy's 'inspiration day' – a whirlwind of debate and presentations centred wholly on the use of solid laminate timber in the construction industry. With the climate changing before our eyes is the climate around materials science, building technology and innovation also shifting? Urban Realm attended as a guest of Timber Design Initiatives to see whether inspiration might usher in a new era of manufacturing utilising home grown timber or if the sector remains destined to hold a wooden spoon.
If the dream is to be realised the first task will be to greatly expand forestry. As things stand the UK's timber producing sector provides around 20% of the country's needs with 19% of Scotland's land mass given over to forestry - but there is limited scope to meaningfully expand this given environmental and planning constraints.
Adrian Campbell, director of Change Building, spoke forcefully in favour of a modal shift from a cycle of take-make-dispose to make-use-return, driven by reduced consumption and minimising waste via renewables. Campbell said: "We have a biodiversity crisis, not just a climate crisis. Forestry could play a major role in enhancing habitats." Citing figures from the Royal Forestry Society suggesting 25% of waste wood is still diverted to landfill with 75% burned as biomass Campbell said: "We haven't taken down a mass timber building yet so it's difficult to get a handle on what we do with mass timber at end of life. I'm worried we'll use material for burning for energy rather than re-using.
Critical to the success of a recycling approach will be improved detailing to extend durability and a reduction in unnecessary modifications and adaptations which discourage re-use – such as harnessing the intrinsic benefits of cross-laminated timber such as natural connection systems using timber-only connections. "The issue is not the product," Campbell says, "It's a fragmented supply chain which needs to be streamlined to allow innovation to happen and to remove barriers with people saying no."
For Campbell the issue boils down to what we can reasonably do with the resources and climate we have. He said: "Many of the businesses I talk to say there is a significant shift in thinking. Having been in and around the sustainability debate for 20 years and seen that pushed around currently I see a more focussed attitude from professionals and clients to get to grips with it so I think something can be done. The implication for legislation in doping this for carbon pricing mechanisms, reduction in materials impacts, building regulations planning process and low carbon process – all of those are being debated, 
we just have to implement them quicker."
Addressing the upcoming COP26 climate conference in Glasgow and the potential for this to serve as a springboard for global action Campbell continued: "We don't have the luxury of time anymore to continue that debate. I'm really interested in what happens in Glasgow, whether it be a showcase of what the industry might do or whether it will represent the body of work that the industry is doing. That is the subtle difference that COP will need to demonstrate whether it is systemic, or a showcase. I went to the Earth Summit in Johannesburg and saw hydrogen powered Mini cars and they were talking about hybrid versus all-electric vehicles and that was in 2002. We've gone round and round but you've got to make changes. You can't keep debating what it is necessary to do."
Unfortunately in Scotland large tracts of land to the north and west, are too exposed and rocky for trees to take root. Kinder climates to the south and east aren't without difficulties too where conflict with people means the prospect of ramping up acreage at scale (particularly over the short term) seems remote. One solution is to target more marginal sites where the risk of conflict arising with farming is much less. Couple this with the greening agenda and increasing calls to limit the consumption of meat and suddenly the prospect of significant forestry expansion doesn't seem so far-fetched. Throw the unquantifiable impact of Brexit into the mix and the consequences for farm subsidies and suddenly you have a recipe for significant expansion over the next 30 years.
To meet the needs of the timber industry conifers remain the preference with Sitka spruce (thought to account for 60-70% of all planting) being both the most productive and easiest to establish across a broad range of environments =particularly wetter, free draining and poorer soils. It is estimated that every hectare planted with Sitka spruce will produce around 14 tonnes on average over a 40-year cycle. Larch also used to be a popular variety but the slow spread of Phytophthora ramorum a plant pathogen, has put paid to broader adoption. Climate change is expected to further complicate matters with a projected fall in rainfall across the east coast necessitating the growing use of pine, which already accounts for as much as 90% of all planting.
Native broadleaf species such as birch, oak and ash remain the poster child of forestry but constitute just 10-15% of planting – predominantly in high-priority areas of high population or degraded native woodlands as slower growth reduces the volume of timber produced per hectare per year by around half on average. A deficit compounded by the relative absence of a hardwood timber processing market in Scotland.
Do we have the capacity and skills to ramp up production at scale? One forestry insider told Urban Realm: "If the ramp up is swift then probably not. However over the last year or so new planting has been over 10k hectares for the year the highest in a long time and the target is now 15k. We now have 30 to 40 years to get the harvesting skills and resources in place to manage the increase. Increased mechanisation helps to counter the lack of skilled people and, as with many things, if there is work to be done and it is a rising programme then usually there are people to do it. The home timber processing industry will certainly increase production levels if timber becomes available locally."
Scotland's timber needs have and continue to be served by imports from mature native woodlands as far afield as Russia, Scandinavia and Canada, accounting for between 80 and 90% of all timber requirements over the past 40 years at a cost of billions. The source added: "I believe it was an industry standard, when housing moved more to timber frame for the architect to stipulate white wood timber grades which precluded the use of home-grown timber. This is changing now and the penetration of home-grown timber in the building sector is much better. Personally, I would think that with the green agenda that timber being used for long term projects such as housing is an easy message to sell. Locked in carbon is the great selling feature of this and it is about getting the right messages to the public so they know better the benefits of growing productive trees in their back yards, so to speak."
Chief among these is convincing the public, in a country of stone, that wood should be their go to medium: "This is about ensuring that we use the right techniques to guarantee that the timber we would use in facia is preserved properly and people grow in confidence with its use", the source concluded. "The Scandinavians as we know have had timber finish to their housing for many, many decades. It's a colder, drier climate but they still get some poor weather. We can surely get better and make it an easier sell to the public."
The issues of resource depletion and habitat loss that we face from climate change are clearly visible as are the solutions. If we are to overcome such obstacles it is time to accept that industry hasn't been able to see the wood for the trees for far too long.
Back to April 2020