George Street: Renovation Game
|
Send to friend
15 Apr 2020
The need to adapt and re-use rather than raze and rebuild has driven the revitalisation of an anonymous Edinburgh office block which sits demurely among its more stately neighbours following a nuts and bolts refresh at the hands of Reiach & Hall. Does this herald a shift toward more sustainable solutions in chastened times? Photography by Paul Zanre.
Over the past three decades, Reiach & Hall has become firmly established as a leading light in the Scottish architectural scene, a period that has also seen the dramatic growth of the practice in its home city of Edinburgh. These trajectories crossed at 10 George Street where an acute shortage of grade A office space collided with the practices own formative history to prove that travelling a long way can bring you full circle.
Designed by director Neil Gillespie around 1989 for the Life Association of Scotland the office block in its initial guise was finished in 1991, going onto win a RIBA Award, the practices first, in 1992. Since that time occupier requirements, technology and fashions have moved on while the appeal of the central New Town address has only increased, prompting moves to completely overhaul the structure to meet the needs of a new era.
Guiding Urban Realm around the refitted space fellow director Lyle Christie observed: "The real driver of the project is our client. La Francaise Real Estate Partners, who are part of Sampension KP, a Danish headquartered investment fund. They owned the premises and Ernst & Young were surrendering their lease. They needed to reposition it to deliver value.
"We wanted to reinvigorate what was already a pretty good thing. Buildings, as they age, add stuff and the original project is a little lost amid all the accretions. A big part of what we did was to sweep all that away and put it back as it was originally intended. The floorplans had acquired some curvy partitions and just taking all of that away has brought its DNA back to the fore."
With the upcoming United Nations Climate Change Conference COP26 hoving into view the need to reuse infrastructure has never been more pressing as we enter an age where repair and re-use becomes more fashionable and redevelopment a dirty word. Christie continued: "A really big driver for the project was to renew and regenerate an asset for our client in a precious heritage environment in a way that was really sustainable. The way the facade holds the environment is much more efficient than it was because technology moves on. The membrane that you can wrap to keep the outside out and the inside in means that the energy efficiency of the building is a step-change from what it was. Before it was an air-conditioned gas guzzler at the bottom of the EPC ratings but it's now C rated. The re-use of as much of the existing fabric as we could mean that the embodied energy of the building is less than a new build."
At 10 George Street, the story is very much the technical accomplishment rather than any architectural flair, as Christie freely admits this is a background building which deliberately shies away from commanding the attention of its environment. "Cities have keynote buildings, but a speculative office is not one of them", notes Christie. "There are buildings which demand the foreground whereas this is designed to rest comfortably on the street without shouting at you.
"When you see it close up you see the quality. It's like the difference between an Armani suit and a Versace suit. The Versace shouts 'look at me' but when you look closely at the Armani suit you know it's been beautifully tailored. We 3d modelled, at 1:1 scale, seven or eight different versions of that façade to make sure we nailed that detail. When you stand and look at it the proportions of the bay are slightly different at the main entrance."
Building anything in Edinburgh carries a weight of responsibility heavier than in comparable British cities thanks to the industriousness of the city's forebears and it is this rich legacy which can also serve as a trap for architects navigating the fine line between deference and pastiche.
Christie added: "I like the Georgians. We live and work in a Georgian building. A beautifully conceived and detailed window can take repetition across a whole façade. It's trying to take that idea and learn from its context. It's a quiet building sitting in a dignified way in the street. We met the planners twice before lodging the application. There were no objections, which is pretty much unheard of in the heart of a World Heritage Site. When the planners got the application there were no surprises in it and they were able to get it through their in-house process.
"The façade is quite rich, although not real-bronze, the materials palette for the additions has that appearance of solidity and presence working with The Dome (the Corinthian columned venue next door). Our ambition was to concentrate on the proportions and occasional fine details."
Internally however the finish is predictably standardised, serving as a quiet backdrop for future occupiers by minimising distinctiveness. Christie explains: "When you're working for a speculative developer, it's difficult to carefully tune the interior because you're trying to appeal to the widest possible market. Inevitably what you do has quite a vanilla flavour because if it was chilli some people don't like chillies. There's a straightforwardness to a landlord interior but you'd anticipate a good fit-out designer could bring character to the space. The outside of commercial buildings are flamboyant to draw attention whereas our client was interested in a good addition to the city and a good investment."
Perhaps the most demanding critic is not the developer or even the future occupier. Is Neil happy with how his baby has been treated? "Neil and I sit next to each other and I was very mindful that it was a precious thing. The RIBA give you a lead plaque when you win an award and when it was removed I carried it down the road and Neil's first RIBA Award is now sitting on his desk.
Given the pace of change in real estate is this the final transformation or will Reiach & Hall be here again in 20 years for another refurbishment? Is this the golden goose that keeps on giving? "I won't be!" exclaims Christie, adding: "The practice could come back again. One of the things we were doing to the existing design was bringing the facilities inside to 21st century occupier standards while giving the exterior a contemporary expression. In 25 years', time that might need to be changed too."
If a day is a long-time in politics then a quarter-century is a positive eternity in architecture and it is clear that a quickening pace of change in construction and client demands is feeding through to a sharp rise in the turnover of buildings, which would not ordinarily be considered old. Only by salvaging the bones of such buildings and focusing on the technical details can we avoid a whole generation of fashion victims being needlessly swept away.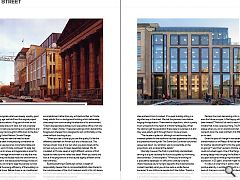 Back to April 2020