Later Living: Retirement Plan
|
Send to friend
14 Jan 2020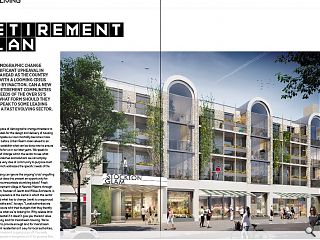 Abrupt demographic change bodes significant upheaval in the years ahead as the country grapples with a looming crisis worsened by inaction. Can a new breed of retirement communities meet the needs of the over 55's and if so what form should they take? We speak to some leading players in a fast evolving sector.
As the frightening pace of demographic change threatens to upend existing models for the design and delivery of housing the need to contemplate our own mortality becomes more pressing than ever before. Urban Realm looks ahead to an uncertain future to establish what can be done now to ensure a good quality of life for us in our later years. We speak to the key architects of change within the sector to see what fresh thinking, approaches and solutions we can employ from rethinking the very idea of community to purpose-built accommodation which addresses the specific needs of the over-55s.
No talk of housing can ignore the ongoing 'crisis' engulfing the wider sector but does this present an opportunity for change or is it an insurmountable stumbling block? Fresh from steering a retirement village in Newton Mearns through planning Jon Jewitt, founder of Jewitt and Wilkie Architects, is keen to share his experience of the inertia in which the sector is becalmed. Asked what has to change Jewitt is unequivocal: "It's got to be the politicians", he says. "Local authorities are under so much pressure with their budgets that they literally can't accommodate what we're looking for. Why release land for retirement residential if it doesn't give you the land value achieved by releasing land for mainstream housing. We're already struggling to provide enough land for mainstream housing. Retirement residential isn't sexy for local authorities, the demographic timebomb is going to go off. You really should be putting people in bungalows or fit for purpose flats, but you cannot get the land values."
Wilkie added: "The traditional providers of retirement housing look for very niche windfall sites but we've got to think more strategically. We've got to release land specifically for retirement residential. Land is so expensive that it's very difficult to build these schemes, you can't compete against volume housebuilders. People have come to us looking for a property in the west end where five couples say can live together and grow old with services on hand. They love the facilities and services but there will come a time when they have to move out to a care home."
Of course, issues pertaining to the adequate supply of housing for older demographics cannot be detached from the acute shortage of land for mainstream homes, the delivery of which continues to elude politicians of all stripes. Is now the time to re-prioritise the allocation of sites to fast-track development? Gavin Lloyd, senior architect at Bracewell Stirling Consulting, offered his thoughts: "Most mainstream new-build housing tends not to provide as great a range of housing type and tenure as it should, (new developments are seldom 'tenure blind') and isn't particularly flexible. The most successful communities are those where people of all ages and walks of life interact and become involved in their local neighbourhood. Prioritising land allocation is a more difficult question, however merely allocating a percentage for affordable housing doesn't appear to be adequate."
In tandem with these external shifts our own personal priorities are beginning to change as Wilkie avers: "The perception was the family home gets passed onto the kids as inheritance whereas I now look at my home as something to pay for my old age", says Wilkie. "There will come a point where we need to look at how we finance our retirement plans. Is our pension alone going to see us through? Probably not because healthcare costs are going to soar. The healthcare industry is struggling to get people to work for minimum wage, there's a rush to the bottom. Brexit isn't helping either because the majority of people working are from Europe or the far east. McCarthy and Stone just pulled out of Scotland because they're not making the returns they thought they would, there's lower hanging fruit down south, which has left a void."
To deliver a more empathetic approach Wilkie has a simple solution. "All you've got to do is think about 'what do I want in my old age?' he says. "The schemes that we're designing at the moment are places where we can retreat into the comfort of a home which has been future-proofed and adapted for our dotage, where we can sit outside in a covered area and see our neighbours and feel like part of a community. It's not about retreating into our little castles and isolating ourselves which is what we're doing in the big estates that are going up. Loneliness is the biggest issue."
One project which aims to embody these principles is a new housing estate in Alyth, near Perth, which puts the needs of older residents first. Wilkie said: "The project is, for want of a better expression, a fairly standard volume housebuilder scheme but with adaptions for dementia and ageing in place. There is a care package with 24-hr support and an on-site care home with a dementia wing. There's a nice village feel to it with a centre."
The care home alone has a contract value of around £3m, a huge upfront investment with any profits lying years in the future. Wilkie added: "It's a simpler proposition to build a house and sell it rather than bring in an operator and set up a management system that will provide facilities. People want to right-size rather than downsize and they want something which is fit for purpose and gives them an extension to their quality of life. We're just not providing them with that option. It's frightening because without it we all face having to move into a care home."
Russell Pedley, chair of ULI UK Residential Council and co-founder of Assael Architecture shares these concerns, warning that 'the perception of old people needs to change' as a starting point for any reform, the opposite of our present approach which too often sees retirement housing as a place where people go to die, not to live. What is needed most, Pedley argues, is a reduction in the number of rooms in favour of higher space standards and the introduction of new technologies such as full-body driers in showers – the antithesis of generic standardised specifications and layouts proffered by the market to date.
Pedley said: "One of the biggest design issues is reducing falls, especially after a shower. Visual awareness falls as sight deteriorates and more contrast is needed. It's important we don't build institutional homes, they must still feel like home. The US is ahead by us by twenty years in build to rent. We need to see more intergenerational communities."
Asked what needs to happen to deliver Later Living properties at scale Lloyd told Urban Realm: "I believe that we need to be looking at providing genuine 'intergenerational living', rather than specifically 'later living at scale'. Of course, there are many social and demographic reasons why various social groups and ages may not always mix, however, if later living is provided insensitively, age segregation creates issues. Many of the requirements of successful intergenerational living are to do with providing flexibility (such as non-structural partitions and designated future knock-out panels) and are relatively straightforward detail design decisions (power outlets and switches at the correct height, colour choice), or simply ensuring adequate public and private open space is available."
Bracewell Stirling is in process of delivering 60 wheelchair and amenity flats for older people in Alloa town centre in a sign of rapidly evolving occupier expectations. The project illustrates how we can increase volume in the right locations without falling into the trap of playing a numbers game. But how do we make that call? Lloyd replies: "We need to diversify the housing on offer. Whilst not taking anything away from recent initiatives to improve the design and quality of specialist housing, most older people don't live (and don't want to live) in what is traditionally perceived as specialist housing. Many would like to stay in the house they are living in, whilst others may want to downsize but wish to remain within their existing community. A wider range of housing options within developments and designing in more flexibility would allow older people greater choice. The answer isn't simply building bungalows."
Does Britain's housing crisis make us an outlier internationally and how does our experience compare with those of our peers? "I would suggest that much of the current mainstream housebuilding in Britain caters almost exclusively for specific demographic groups. Suburban developments target working families, who predominantly travel by car. City centre developments tend to target other specific groups. This approach does little to address divisions between generations. I am aware of cohousing and intergenerational housing projects in Europe and the USA which appear to be successful and encourage spontaneous interaction, yet these models don't seem to be considered in the UK.
"British suburban development is continually being criticised for not providing the infrastructure to support new homes. However, making sure that these new neighbourhoods and the homes within them are suitable for as wide a demographic cross-section as possible, and are capable of coping with change, is just as important in creating successful communities."
It's said you should never let a good crisis go to waste and the scale of the challenge currently facing the industry is such that the opportunities are surely irresistable. As investors fall over themselves to back private rental and student flats those wishing to spend their golden years in comfort represent a golden opportunity for those astute enough to meet their needs.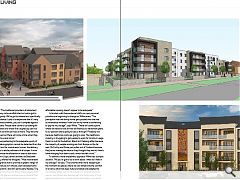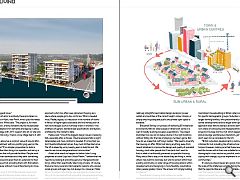 Back to January 2020