City Urbanist: Going Places
24 Apr 2019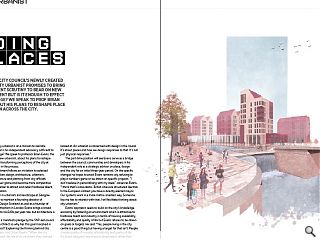 Glasgow City Council's newly created role of city urbanist promises to bring independent scrutiny to bear on new development but is it enough to effect real change? We speak to professor Brian Evans about his plans to reshape place and design across the city.
Glasgow's new city urbanist is on a mission to rekindle interest city life but is his independent advocacy sufficient to forment real change? We speak to professor Brian Evans, the figurehead for a new urbanism, about his plans to reshape place and design, transforming perceptions of the city at home and abroad in the process.
Evans' appointment follows an invitation to selected practitioners of urban design, architecture, urbanism, landscape architecture and planning from city officials seeking to raise their game and become more competitive internationally in order to attract and retain footloose talent, businesses and visitors.
As a professor in urbanism and landscape at Glasgow School of Art, not to mention a founding director of Architecture and Design Scotland as well as a founder of the Academy of Urbanism in London Evans brings a broad spectrum of skills to his £40k per year role, but architecture is not one of them.
This is despite a manifesto pledge by the SNP-led council to appoint a city architect so why has this goal morphed in favour of an urbanist? Explaining the thinking behind this change of tack Evans told Urban Realm: "When the city started to think about the role of city architect they realised there was a broader range of issues which needed to be looked at. An urbanist is concerned with design in the round. It's about places and how we design responses to that. It's not just physical responses."
The part-time position will see Evans serve as a bridge between the council, communities and developers in his independent role as a strategic adviser on place, design and the city for an initial three-year period. On the specific changes he hopes to enact Evans remains coy, refusing to play a numbers game or be drawn on specific projects. "I don't believe in personalising with my ideas", observes Evans. "I think that's iconoclastic. British cities are structured like that. In the European context you have a directly elected mayor. Our systems work in a more matrix-oriented way. Someone like me has to interact with that, I will facilitate thinking about city urbanism."
Evans' approach seeks to build on the city's knowledge economy by fostering an environment which is attractive to footloose talent and industry in terms of housing availability, affordability and quality of life but Evans refuses to be drawn on goals or targets. He said: "Yes, people living in the city centre is a good thing but having a target for that isn't. People choose quality of housing, affordability and quality of life. It's about designed responses to those needs rather than saying we must have another 200,000 of these. In my view cities like Glasgow and Dundee are no longer post-industrial, they are proto-knowledge cities. There has been a paradigm switch over the past 40 years. The spatial requirements of the industrial city are completely different to the knowledge city."
Evans speaks instead in broader terms about place and community, perhaps mindful of current austerity limiting the scope for headline grabbing initiatives. He said: "In the current climate where city budgets are under pressure it's really interesting that Glasgow has been really creative and should be complimented for reaching out on the connectivity commission."
This commission is engaged in generating fresh ideas for making the city more 'liveable and breathable', qualities Evans is keen to embrace as part of his own open remit spanning the fields of place, design and the city. Evans remarked: "This is an independent position, it's not embedded in the city. I'm not a member, officer or employee of the city. I'm a strategic adviser. I have no executive authority and don't speak for the city, that's the responsibility of the city leadership.
"I can speak about the city of Glasgow as opposed to Glasgow City Council. A lot of people don't make that differentiation, but I think it's interesting that in talking to me about the role the council make that distinction themselves."
One of his first roles will be to help oversee the establishment of a 'place commission', where stakeholders will be able to discuss ideas which can help shape the design of Glasgow as an international city, a metropolitan city and an everyday city – with emphasis on the latter in terms of the quality of life for residents, workers and other inhabitants.
Evans said: "It is the everyday city which is the most important. It's the city we put our hands on, experience and gives us quality of life. What residents, businesses and visitors all share. Glasgow has been successful in turning an internationally negative view into a positive reputation, it is no mean feat for no mean city to have done that.
"To understand Glasgow you have to understand that it's a metropolitan city. The way the boundary has been drawn around Glasgow is fortuitous because it's been drawn around the Clyde Valley. That is the same as the strategic plan which has been worked on consistently since the second world war."
During a distinguished career Evans has spent time as an adviser to the United Nations, arming him with an outside perspective of how the city measures up in an international context, noting that official measures such as the city having a population of 620,000 simply do not reflect reality. Evans said: "When bodies like Centre for Cities or the European Union compare Glasgow with other cities the Glasgow they're comparing is different to the Glasgow that is being compared within Scotland because down south the Department for Communities and Local Government defines the primary urban area as the productive capacity of a city is in terms of its people and businesses. In that context there are four or five Metropolitan cities, London obviously but Manchester, Birmingham and Liverpool also. The only city in Scotland considered to be Metropolitan is Glasgow. With Renfrewshire and Dunbartonshire you're dealing with a city of 1.5m. The city region is 1.7m. That's something I will be talking about because it affects movement and the way we all live our lives."
Citing Glasgow's 'geography of knowledge' Evans enthuses about a hi-tech arc sweeping across the city from the Queen Elizabeth hospital in the south and the University of Glasgow in the west to the School of Art and Royal Conservatoire in the city centre. Pushing further east this ribbon of learning reaches Glasgow Caledonian University and the City of Glasgow College before finally terminating at Strathclyde University. Excited, Evans said: "There are 120,000 students there and in the middle of it all at Blythswood you've got one of the top concentrations of business services in the country. That's formidable."
If there is one challenge Evans relishes above all it is overturning decades old accepted wisdom in roads engineering, which has hit Glasgow harder than most. "I've always found road engineers are doing a job but they're hidebound by national regulations, like Design Bulletin 32 – where are the other 31?! I hope I'll have the confidence to ask the daft laddie question 'why do we do that?"
With just three years and two days per week at his disposal it is clear Evans will have his hands full guiding Glasgow back toward the urbanism which once defined the city. By working with established organisations and systems Evans recognises that the best chance of seeding long-term success lies in a consensual rather than a confrontational approach in pursuit of common goals.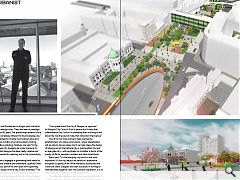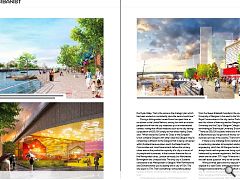 Back to April 2019